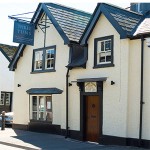 Type of Food Establishment
Evening Meals
Public House
Real Ales
Restaurant
---
WELCOME TO THREE TUNS

The Three Tuns dates back to the early 16th Century – although some records make even earlier reference to this, the oldest pub in Hay on Wye.
Famous for its unique charm and character, Three Tuns became a popular haunt with local characters and well known personalities such as Jools Holland, Marianne Faithful, Neil Kinnock, Huw Edwards and some as infamous as the Great Train Robbers!

THREE TUNS HEAD CHEF, SIMON COOKE

My training began in my home county of Herefordshire, where I took on a number of Sous Chef roles in some of the finest restaurants and hotels and then progressed to Head Chef. I also a trained butcher and use my knowledge to create a wide range of dishes using a variety of cuts of meat. I am passionate about using local ingredients and have forged strong links with local farmers and butchers.

Now I have come to the unique environment of the Three Tuns Pub and Restaurant at Hay on Wye where I enjoy the freedom and opportunity to offer the finest traditional and international fare. I aim to offer a frequently changing menu prepared from locally sourced produce.

Our fish, from Wing of St Mawes, is as fresh as it can be, and harvested from sustainable stocks, fished off the coast of Cornwall and delivered to The Three Tuns within hours of being caught.

The meat served at the Three Tuns is bought from local suppliers who have a fantastic reputation for quality, locally produced meat through his local knowledge and years of experience working with local farmers around Hay on Wye.

Our organic vegetables come from Primrose Farm, Felindre. Our cheeses come from Dorstone and our delicious ice cream is made in Brecon at Llanfaes Dairies.
Our breads are home baked. In fact, everything on the menu is prepared freshly, here in our kitchens.

Our eggs come from Iain and Emma's own chickens and ducks, home reared and corn fed each day by 5 year old Max, 4 year old Jacob and their considerably older Dad!

The Three Tun's service team pride themselves on their knowledge of the food we serve, but if you have any specific questions or dietary requirements then please ask and I will do my best to answer.

Enjoy your food – I will enjoy and take pride in preparing it for you.

Opening Times

Our lunchtime menu is served from 12:00 noon until 2pm, Monday to Friday
The Saturday lunchtime menu is served from 12:00 noon to 6pm and Sunday from 12:00 noon to 3pm.
Our evening menu is served from 6.30pm to 9pm.
For restaurant bookings at the Three Tuns, please call 01497 821855

Smoking Policy

Our guests are welcome to smoke in our heated beer garden.
Wheelchair Access
We have disabled access and a disabled loo.

Children and Minors

Children accompanied by an adult are welcome at the Three Tuns up until 7pm.
Dogs
We prefer customers not to bring dogs with them, apart from guide dogs.
Bookings and service
We do take bookings at the Three Tuns, but we try to make sure that there is plenty of room for customers who are not able to book in advance. So, if you haven't made a reservation, its not the end of the world. If there are no tables free we run a waiting list from behind the bar. The Three Tuns offers table service in the restaurant but ask that in all other areas you order your food and drinks at the bar.