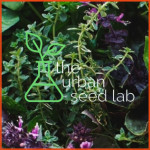 Herbs
Tubers, Seeds, Bulbs, Corms and Cuttings
Vegetable Plants
Vegetables by Name
A Herbs
A Herbs (Plants)
A Vegetable Plants
Micro Leaves
Plugs
---

CONTACT DETAILS
Beta listing full informations is only available on the Listings own website.
Full details in this section will be available shortly

What is The Urban Seed Lab?
The Urban Seed Lab is unique hybrid of a traditional plant nursery and a culinary herb/plant supplier to the restaurant trade, with a difference – we cultivate all plants to order.
Founded by an Oxford-trained, prizewinning organic chemist, along with his practising biochemist partner, the Urban Seed Lab is an urban laboratory specialising in the cultivation from seed of the healthiest, most resilient and- of paramount importance- most flavourful and aromatic culinary plants for both professional and domestic cooks, food lovers and gardeners.
Day-to-day, we undertake rigorous experimentation with seed types, germination, watering, feeding, lighting, grafting and propagation protocols. Plant strains are meticulously selected and re-tested for advantageous characteristics: hardiness, disease and pest resistance, aesthetics and- most importantly- intensity of flavour and aroma. Respect for the scientific principles of germination, cultivation and harvesting is paramount. The pursuit of taste is everything.
The culinary applications of our plants always take precedence; our in-house quondam chef and now restaurant consultant to Michelin-starred establishments throughout France tracks down rare breeds and niche plant strains to ignite the creativity of chefs and home-cooks alike. Flavour profiles are exhaustively catalogued; tasting notes are prepared with the utmost diligence, and the cumulative results of experiments in growing conditions are meticulously reviewed to ensure every plant is grow to its fullest potential.
.
Our plantlets
Select your delicious, vigorous and high-yielding culinary plants and let us raise them to perfection in our lab – the plants your receive after starting life in our care will grow better, taste better, and produce more for your kitchen.
All varieties are available in wide range of pack sizes to suit any size of growing space, both for nationwide delivery or free Click & Collect.
Fresh, living herbs and microgreens. Direct to your door.
Our bestselling kitchen herb pots, microgreens trays, & Herb+Micro subscription packages & Discovery Boxes.
Herbs & Microgreens
Vigorous, flavoursome culinary herb pots & microgreens trays and punnets, delivered kitchen-ready to your door, and available on regular subscription.
Plants for growers
Over 300 varieties of superior-quality rare and unusual fruit, vegetable, salad and edible flower plantlets for urban gardening, greenhouses, veg plots and allotment growing
Substrates & Nutrients
Sustainably-sourced, professional-grade horticultural potting soils, precision nutrient formulations, plus hydroponic growing media & solutions.
.
The widest range of professionally-grown organic Microgreens in the UK, delivered to your door.
For professional chefs, experienced domestic customers and all long-time fans of these tiny, tasty delights, this page offers our whole range of grown-to-order Microgreens, available in three sizes;
——————————–
MicroPunnets – 8x9x10cm: the perfect size for sampling different varieties, or to liven up a week's salads and sandwiches;
LivingTrays – 19x12cm, perfect for domestic kitchens, and our larger 38x25cm restaurant size;
——————————–
Bursting with life, and rooted in a specialist nutrient-rich coconut coir & soil blend for maximum freshness and longevity; no refrigeration is required and all produce is guaranteed for 7 days from delivery. Simply pop a tray on your worktop and keep harvesting!
What's more, for direct-delivery/collection orders and orders to restaurant trade customers, we collect all spent trays and growing medium for recycling too.
Those looking to explore the world of microgreens may wish to try our monthly Microgreens Subscriptions – superb selections, delivered fresh to your door every month.