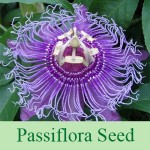 Tubers, Seeds, Bulbs, Corms and Cuttings
---

The Passion Flower (Passiflora)

A passion flower planted in the garden or conservatory is an easy to grow flower, which looks…… absolutely stunning.

We supply passion flower seeds from the UK national collection so you can be assured of the highest quality seeds, spend time exploring our website, savouring the wonderful colour and complexity of these truly exciting plants. Passion flower seeds, the renowned book – Passion Flowers by John Vanderplank, fragrant oils and printed notelets are all available, they make perfect gifts or presents everyone will enjoy.

The passion flowers displayed on this site are grown from our quality flower seeds.

If you have a PASSION for Passiflora you have come to the right place, or, if this is your first sight of these wonderful flowers then we can assure you it will not be your last!

We can provide information and advice to enthusiasts and professional bodies alike, so if you have any questions about a passion flower, seeds or any other enquiry or comment then simply contact us

About Us and these Flower Seeds

The Passion Flower Seed Company partnership grows with the UK National Collection of Passiflora

"These flower seeds are really easy to grow and look wonderful in any garden, Passion Flowers are one of the most beautiful flowers to have around your garden, they provide inspiration and colour to any day". these flower seeds produce these amazing flowers
The Passion Flower Seed Company have come together with the UK National Collection of Passiflora to enable these wonderful plants to be purchased, in flower seed form, on-line in a secure enviroment

The U.K. National Collection of Passiflora has a collection of well over 200 different types of passion flower. We are committed to the value of comprehensive plant collections for both decorative and scientific interest. Most genera, especially Passiflora have yet to be fully investigated for potential natural chemical products for providing environmentally friendly insecticides, herbicides or drugs for pharmaceutical uses, let alone the botanical relationships of species and the fascinating symbiotic relationships with various insects and the continuous battle reluctant host and rampaging predators, the Heliconius butterflies.

To this end our collection has already proven its worth. We have provided universities with plant material for "virus studies" and for pharmaceutical research. We have supplied plants to a number of botanical gardens in the UK and abroad to preserve passion flower collections around the World.John Vanderplank

John Vanderplank is custodian of the National Collection of Passiflora. He was born in Tanzania and spent most of his youth in Zanzibar where he gained his love of the natural world. His early interests included tropical Lepidoptera and marine biology and later the botanical world. He has spent most of his working life in commercial horticulture as managing director of a small specialist nursery in the west of England.

He has travelled widely in search of rare species of passion flowers, and is presently engaged in scientific research investigating the long-term storage prospects of Passilfora seeds. He is closely associated with the Royal Botanical Gardens at Kew, who have enthusiastically supported his unique collection, which is now internationally renowned.

The collection has featured in several natural history programmes on television and has assisted universities around the world with plant material and information for research projects.
The living collection of passion flowers, and an exhibition of paintings and historic illustrations, are on permanent view at the author's garden nursery in Kingston Seymour, Clevedon, Bristol.