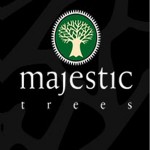 .
.
.
.
Ornamental Trees and Shrubs
A Ornamental Shrubs
A Ornamental Trees
Specimen Trees
---
CONTACT DETAILS
                           Telephone   01582 843881
                                             Email:    info@majestictrees.co.uk 

Company History

Majestic Trees opened for business in May 2002 after over two years of careful planning, construction and growing-on of its trees. Majestic hit the ground running, quickly establishing ourselves in the industry as a 'nursery to watch' to the point that in less than six years our peers awarded us not only the UK's 2008 'Nursery Stock Grower of the Year' award, but also the very prestigious overall 2008 'Ornamental Grower of the Year' award. We were the youngest company to ever win this award, bestowed by an independent panel of industry experts who consider the quality of what the candidate grows, the professionalism of its staff, the excellence of its services, etc.

The key to this success is the passion for excellence that is the ethos of Majestic Trees. Steve McCurdy, the MD, has over 30 years of industry experience both in the UK where he studied and worked when younger and then for 18 years in California. Whilst in California, Steve and Janet, his wife, built a very successful interior landscape company that won a total of 93 national and state-wide awards in 14 years partly as a result of their vision, but most importantly due to the high calibre of the team who consistently delivered above and beyond customer expectations. Steve and Janet's company in California landscaped and maintained many celebrity residences in the entertainment and business world, prestigious hotels and high profile commercial buildings. When they decided to move back home to the U.K. in 2000, they subsequently sold the US business to partially fund this new UK operation, where this same commitment and passion has been devoted to building Majestic Trees into the success it is today.

As in California, the team has been crucial to the company's success with very little staff turnover due to employee satisfaction and above industry standard pay. In fact some key members of the team have been with Majestic Trees since the beginning and today serve in capacities such as Sales Manager (Sara Phillips) and Marketing and Business Development Manager (Christina Jones), performing key roles in building Majestic Trees reputation. They and the rest of the exceptional team bring a tremendous amount of experience and training to the company, and in fact over 50% of Majestic Tree employees are college or university trained in Horticulture from National Diploma (a three year course) to MA/MSc levels.

Things took off quickly from our initial opening in May 2002, and by autumn 2002 we were pressing ahead with the development of the remaining 3 acres of our 12½ acre site. In 2004 we built a new production shed, offices, staff canteen and toilet block in the Old English cart-shed style to complement the office building built in 2001. As the business continued to grow we found acreage our biggest limitation and in January 2008, after a record 38% growth the previous year, we managed to purchase the adjoining 6½ acres to further expand our nursery.

At the same time we have continued to build and improve our team, attracting excellent horticulturalists from other nurseries to ensure that we continue to exceed customers' expectations. We built our second 4,500,00 irrigation reservoir for rainwater harvesting and have now developed most of this additional site, although it will be years before every detail is complete. We will continue to strive for improvements in every area because we are highly committed, as a small family business, to providing Quality, Service and Professionalism that is second to none.

Why are our trees so special ?
 

An extensive range
We grow an extensive range (400+ varieties) of specimen trees. These trees can be as young as 4 years old or as old as 150 years; 4ft to 40ft tall or from 12cm girth to over 1m+ in girth (circumference around main stem).

Personally selected
Each winter our managing director spends weeks visiting some of Europe's finest nurseries to select the best trees possible to grow on at our nursery. This attention to detail in how they have been grown to-date, in terms of regular undercutting, transplanting, crown development, pruning, fertilisation and pest and disease control, ensures that the stock he has selected have the necessary traits to develop into the best mature trees available.

Air-Pot grown for the best root system on the market
small_airpot-close-upA Majestic tree begins its life as a rootball or bare-rooted specimen, brought in during the winter season, the only safe time to lift and transplant field-grown trees.  However, when the trees come to us, instead of being planted into yet another field, we settle their roots into Air-Pots, a revolutionary new growing system which promotes rapid production of a vigorous, fibrous root system, and once this root system has developed, allows the tree to be moved and planted any time of year.  Our Air-pots range in size from 50 litres, which one strong person can usually manage, to 5000 litres, which could be nearly 8ft across and 4ft deep!
Fully rooted for year-round planting
All new stock spends its first growing season here at the nursery to ensure it roots out fully and is in good health. After this initial production period, during which further pruning of the roots and crown are done, along with vigilant inspection and treatment for any pest and diseases, fertilisation and watering, the tree becomes a fully fledged Majestic Tree, ready for planting any time of year.  Some of the trees will sell after this first season of production, others will continue to be cultivated in their airpots for many years, being periodically potted on as required, each time undergoing another season of  production, during which they are not available for planting.   Of course, trees in a production phase can still be purchased and then released when they are ready – a great way to literally secure 'the cream of the crop'!

Fleet and Planting Machinery

You may not have much of an interest in big machines, but when it comes to moving mature trees, they sure do come in useful! We are the best equipped tree nursery or tree planting service in the UK if not continental Europe, so we never have to compromise in how we handle our trees or have to take risks to get the job done. Nor do we ask you to figure out what equipment you will need, where to find it or how to get that special tree you want into your project. Therefore, you can trust your advisor to select the correct equipment for a flawless finish.

However, those of you who DO have an interest in machinery will appreciate the sophistication of the equipment we use, many of which have been customised for installation of large trees.

Contractors and professional customers, in particular, may find this page useful, as you may have some of the machines which will be required for planting already available on site, but may be interested in hiring our specialist machines to get larger trees in place without damage such as our tracked crane (i.e. the Morooka).