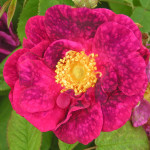 Ornamental Plants
Ornamental Trees and Shrubs
A Ornamental Plants (Various)
A Ornamental Shrubs
A Ornamental Trees
Herbaceous Perennials
Heritage Varieties
Meadow Plants
Plants to Encourage Wildlife
Plantsmans Plants
Rare Plants
Rare Trees and Shrubs
---
PAGE Q.R. CODE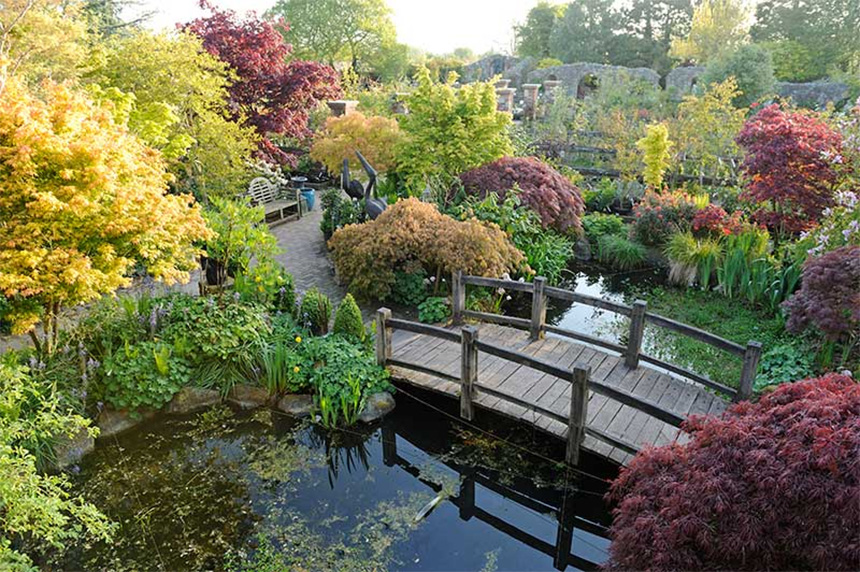 .
In The Beginning…
 Hidden away in the tiny hamlet of Melkinthorpe in the Eden Valley is one of the country's great horticultural gems. Established by the Cumbrian landscape designer Peter Stott, the owner in 1984, the business has grown from originally providing plants for his landscaping business into a true garden of Eden with a thriving nursery.
 Romanesque walls, draped with greenery, act as a backdrop for the plant displays bursting with mature stock plants that have been cultivated on the local land.
 There's an intimacy and tranquillity to these gardens, which have been cleverly planted and arranged in a series of outdoor rooms. Over the years, Peter has worked tirelessly to create romantic settings with pathways that lead the visitor on a journey through abundant herbaceous borders dotted with giant urns and statuary. Some structures are lined with Italianate pillars and rambling walls that look as though they have been there for centuries.
 .

.
Art lovers…
 Combining his love of art, beauty and good architecture Peter and his wife, Jo, have worked with his team of experienced craftsmen to create Larch Cottage Nurseries, which also houses the Red Barn Gallery on two floors. Upstairs, the gallery has a reputation for showcasing the work by some of the country's most highly regarded artists, sculptors and craftspeople. From decorative teapots to figurative pieces, the diverse range of ceramics include works by Christine Cummings, Peter Hayes, Tim Andrews, Morag Muir, Mathieu Van Der Giessen and Lisa Hammond.
 Exhibitions change bi-monthly with a host of fine artists and ceramicists on show. The display cabinets are filled with bespoke jewellery by popular contemporary makers including David Weinberger, Jane Marshall, Rachel Brown and Annabel Humber.
 The Lower Red Barn is rapidly becoming the place in the local area for those wishing to purchase inspirational, original gifts, homewares, throws, mirrors, a multitude of candles and scents by Millefiori. There are leather bags and purses, affordable jewellery, hats and scarves.
 .

 .
Horticulturists paradise…
 Today, horticulturalists travel from all over the world to explore this secret garden and to discover the vast selection of plants, the majority of which are propagated on-site. Peter and his team specialise in rare and unusual shrubs, perennials, and climbers, Japanese acers, old fashioned roses, and slow growing and dwarf conifers. For many of these varieties they are the country's only suppliers as listed in the RHS Bible, The Plantfinder.
 Larch Cottage has supplied plants to Kew Gardens, Botanic Gardens Durham, RHS Wisley, plus many National Plant Collections as well as Sheffield Botanical Gardens, Worcester College, Myerscough College, Gardening Which, the University of Warwick and Alnwick Gardens.
 .

 .
Relax and Enjoy…
 Visitors can peruse the nurseries at a leisurely pace and choose gifts before taking refreshments in La Casa Verde Restaurant. With a terrace overlooking the gardens and the Pennines beyond, the restaurant is popular with both locals and visitors.
 A light Mediterranean style menu is served using only the freshest of ingredients with organic seasonal vegetables, fruit and salad leaves coming straight from the organic kitchen garden. All other produce is sourced locally where possible, with everything made on site from first principles.
 So come and spend an afternoon with friends. Relax and enjoy a delicious lunch accompanied by a glass of chilled wine or even afternoon tea – what could be nicer?
 .