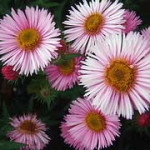 National Plant Collection
Ornamental Plants
A Ornamental Plants (Various)
Herbaceous Perennials
NPC Anemone nemorosa
NPC Sanguisorba
NPC Symphyotrichum novae-angliae
Plantsmans Plants
---

CONTACT DETAILS
Beta listing full informations is only available on the Listings own website.
Full details in this section will be available shortly
 .

Our nursery and display garden, situated just outside Coventry, is full of rare and unusual perennial plants from spring until autumn, with extensive collections of Geum, Geranium, Crocosmia, Agapanthus, Salvia and Helenium.

 Our nursery is centrally located, easy to find, and plants on your wish-list can be seen growing in our Library Garden when you visit. We're happy to reserve plants for collection, or take them to plant fairs if they are closer to you than the nursery, but sorry, we don't offer a Mail Order service.

 .
 
 .
 

Our Plant Collections

 We are National Collection Holders for three plant families, Symphyotrichum (Aster) novae-angliae, Anemone nemorosa and Sanguisorba. The first to flower are our Wood Anemones which will be on display in March. Our Sanguisorbas are in flower throughout the summer, and over 50 varieties of Michaelmas Daisies are on show in our display garden in September. Most plants in the collections are available to buy in the nursery. Take a look at our Collections Page packed with information and photos dedicated to all of our collections.

 .
 
 .
 

The Library Garden

 

Visitors often use our garden like a reference book, as all of our plants are clearly labelled. There are areas planted up for both sun and shade, encompassing all the seasons from late winter through to autumn. Entrance to the garden is free, except on Charity Open Days and for group visits.

 .