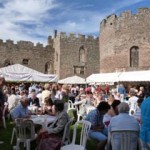 12th - 14th September 2014
01584 873957
.
Yearly Events (Shows, Food Festivals etc)
---
Come and join the Experts
More than 160 producers will be here, under cover in our huge marquees all weekend, alongside Michelin Chefs, hands-on cookery demonstrations and expert talks.

Please visit our website www.foodfestival.co.uk 

Ludlow Food Festival 2013

The 2013 Ludlow Marches Food and Drink Festival will take place on 13th, 14th and 15th September in Ludlow, Shropshire, England, the small town with the large reputation for good food and drink.
The Festival will feature more than 160 top quality small independent food and drink producers from the Marches, the England-Wales border country, inside Ludlow Castle.

Our website for further information is www.foodfestival.co.uk 

You can now print off an itinerary so you can plan your day on whichever day you would like to visit. so please choose the day you'd like to come and get planning

Friday – the day of top chefs and the quietest day in the festival.

Saturday – the day of trails and lots of extra events in town

Sunday – an extra 40+ stalls on the marketplace just outside the castle

As well as the food producers, throughout Ludlow's historic town centre there is seemingly no end of food-related events, such as the famous Ludlow Sausage trail, Ale trail and the Festival Loaf trail, not forgetting all the old favourites both inside and outside the Castle, including great demonstrations, talks, pudding tastings, markets and more.

This was Britain's first successful food and drink festival when it started back in 1995. It's grown considerably since then, with large numbers of visitors from throughout the UK, as well as from overseas – but we've stayed firmly with our original idea of highlighting the great food and drink that is available in the Marches, and to have a great time.