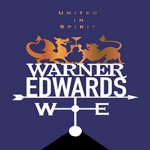 Falls Farm, Harrington
.
.
.
---
CONTACT DETAILS
       Telephone 01536 710623
W.E. are Warner Edwards. Great friends and craft distillers, we carefully and lovingly create beautiful artisan spirits. Over our first two years of distillation we have been globally recognised by winning several top prizes at the world's biggest spirits competitions, not least, most recently double gold at the San Francisco World Spirits Competition.

From a 200 year old converted barn on our farm in the quaint village of Harrington, Northamptonshire, Curiosity, our magnificent copper pot still works her magic.

She takes our farms' pure, natural spring water, grain spirit, home-grown elderflower, plus ten other secret botanicals, and transforms them into a fantastically smooth and aromatic dry gin.

Each batch is small, and every single bottle is carefully handcrafted by us, from the filling to the wax seal and label finishing. W.E. think it's pretty special and best served with friends – let us know if you agree!

 
 
 

We first met at Harper Adams Agricultural College back in 1997, and as many of you know, the friends you make on the first few days of Uni often become your friends for life. We had been talking about starting a business since we left Harper, and in 2010 we started to discuss ideas in earnest. The dream centered on using our family farms to the best of their abilities and working for ourselves. We struck upon the idea of producing essential oils, very manly stuff! The intension was to grow crops such as lavender and then extract the oil. To facilitate this process you need a still, and being practical lads we started to think of ways of using the still for the rest of the year………….which led us to alcohol! Warner Edwards Distillery was born!

Initially we looked into distilling vodka from Sion's farm, Bryngwyn Mawr, in North Wales but through planning and research decided to distil gin from a converted old barn on Tom's family farm, Falls Farm in Harrington, Northamptonshire.This idea sat better on our palate.We are both avid gin consumers. It is a wonderful spirit that you can carefully craft to makeyour very own and as we found out, with the right ingredients and the right water you can make something really special. 

  

   

Thanks to a rogue cat that left its paw prints in the wet cement of the distillery floor we called our still 'Curiosity'.

"Curiosity killed the cat ………… but satisfaction brought it back"

'Curiosity' is an Arnold Holstein still, which was bespoke manufactured for us in Markdorf, Germany. She has a 500 litre pot, with a 4.3m column housing eight bubble plates, a deflegmator and a patented catalyzer. She arrived on the 5th of October 2012 on three pallets and with the help of friends we spent the next day getting her into position. It was immense fun and extremely stressful all at the same time as the pot weighed 1100kg.

The distillation process takes around seven hours, all the ingredients including spring water from the farm, 11 botanicals and the finest grain spirit are measured out and mixed into 'Curiosity's' pot. The copper that constitutes most of our still is vital to producing the finished product as it absorbs acids, cyanides and carbomates that the botanicals can add to the spirit. The more contact the vapor gets with copper the smoother the final spirit, which is where our catalyzer adds significant contact time and smoothing.