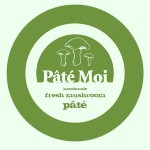 Condiments, Dressings, Sauces etc
---
   
Welcome to Pâté Moi – the home of our famous pâté, hand made with organic mushrooms from Suffolk and plenty of love. Adored by vegetarians and carnivores.

Come and find us every Friday and Saturday, in our new bright, under cover position in The Jubilee Market (the old Borough Market car park). There is more space to shop and it's a nice environment with other fabulous stalls around us.

Opening times: Fridays 12pm – 6pm Saturdays 9am – 5pm.

You can now also buy our pâté at the fantastic new open plan deli called 'SOURCED' at St. Pancras station. So go and have a look – it's chock a block with interesting, delicious goodies.We are also stocked in Pomona Foods grocery store, Belsize Park, London NW3.

You can catch us at Venn Street Market / Clapham Common / London SW4 every Saturday .

Pâté Moi is also available to buy online at the Virtual Farmers Market – VFMuk.com and also at Selfridges.

If you would like to contact us please email: flip@patemoi.com.
Hope to see you soon.

Flip

Pâté Moi

Fact file:

Owner: Flip Dunning

Old job: Account manager in advertising

New job: Selling mushroom pate in Borough Market

Old hours: 45 hours plus two nights a week

New hours: Seven days a week

Going from a 9-to-5 job and with no start-up capital, Flip Dunning began selling her much-loved mushroom pate at Borough Market in September 2006. Based on a recipe her brother made up when he was eight, it has proved a huge success, and she now boasts a loyal clientele of more than 100 customers – a number that is increasing all the time. She sells out of pate every week.

In my old life, I used to fly all over the world as part of my job, testing various brands and products on focus groups. I was so utterly absorbed in my work that although I'd made tonnes of cakes and treats, I just didn't have the time to give it my all.

The turning point came when my dad became sick and, around that time, encouraged me to produce my own food and sell it at Borough Market. I sounded the idea out to a friend and she said she loved my mushroom pate so much that she was willing to invest in me.

I'd visited Borough Market for years and loved it because it had so much community spirit and really brought Londoners together.
I decided to apply, which involved pitching my proposal and ideas to 32 members of the Borough Trust panel, which they accepted.
Sadly, that was around the time that I lost my father and I knew then that the following year was going to be life-altering. I quit my job but continued to do freelance work for them, which was so brilliant because it helped to fund my research for Pate Moi.

I had to learn about which type of pots you had to buy, health and safety issues, and how to make the pate to scale.
My first day selling was the best day ever. Everything had gone within four hours – I felt like my dad was helping me. The sense of satisfaction that not only did people like my pate, but also the fact that I'd made money from doing something I absolutely loved was exhilarating.
Of course, the money wasn't near to what I was used to earning, but I did this for a life change. Other things have changed too – I never thought my "outfit du jour" would consist of thermals and fleecy boots.

An average week consists of doing my accounts on Monday and preparing and making the food until Thursday. Friday and Saturday are sale days and Sunday is the day I rest – although the chances are I'll probably be thinking of ways to design my stall. To think that once upon a time I used to think of shoes and clothes – now I can't seem to walk past a DIY shop without getting excited. I'm still planning to do freelance work for my old work place, so I won't give that up entirely, but in a strange way the two complement each other.

Because of what I used to do, I understand my customers' body language a lot better and know how to brand and market Pate Moi properly. The only difference being that now, every bit of my hard slog goes into making my company better.

We are at Borough Market London

Fridays 12pm – 6pm Saturdays 9am – 5pm.