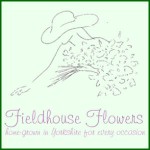 Diverse Associated Products
Florist
British Cut Flowers
English Cut Flowers
Talks and Demonstartions
Wedding Flowers
---

CONTACT DETAILS
Beta listing full informations is only available on the Listings own website.
Full details in this section will be available shortly

Welcome to Fieldhouse Flowers where we grow glorious, traditional country flowers in their natural season. It was here on our family farm in the East Riding of Yorkshire that the national move to locally-grown flowers first began and we are so proud that more and more people all over the country are now starting to grow flowers for market.

We sell from home and from farmers' markets, providing flowers for weddings, parties, anniversaries and funerals in the surrounding area.

Look through these pages to see more of our glorious flowers or look at our workshops to find how you too can learn to grow and sell from home.

Our flowers echo the fragrance and variety of an English country garden and bloom in their natural season so every bouquet is unique. The look changes with the season: from the welcome bulbs of spring, through the glorious abundance of summer to the berries and gentle tones of autumn.

We grow over eighty different varieties from cheerful annuals to stately perennials; from brightly coloured bulbs to simply hedgerow material and aim to start picking in March right through to the frosts of October.

Whether it's a pretty posy for a loved Grandmother or a full bouquet for a special anniversary: whether it's a full wedding or a simple sheaf for a funeral tribute. Our flowers will grace any occasion and brighten every day.

START GROWING FLOWERS FOR MARKET
Attracted by the idea of growing flowers for market? Bemused by the choice of flowers to grow? Daunted by the idea of finding a market for your flowers? This workshop [held every March and September] will give you chance to learn the basics of flower growing and to meet others also starting on the same journey.

FUN WITH FLOWERS This great day can be arranged to suit yourself. Bring a group of friends for a day of fun with flowers and a special lunch. Enjoy yourselves simply playing with gorgeous garden flowers or learn some skills and gain confidence to do your own wedding. Ideal for birthdays or any special anniversary. Available April to October.

WEDDING FLOWERS

We would love to help you with your wedding flowers and you are welcome to come and look around the flower beds to see the variety for yourself.

If you have your heart set on roses, gerberas and lilies in exact shades then we are not for you, but if you want a bouquet picked straight from the garden then come and see us. We will provide all the personal flowers, decorate the church and reception venue – or you can simply collect generous buckets of mixed flowers and foliage and DIY!