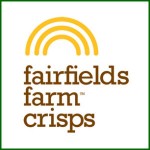 Fordham Road, Wormingford, Colchester
.
.
.
---
CONTACT DETAILS
     Telephone 01206 241613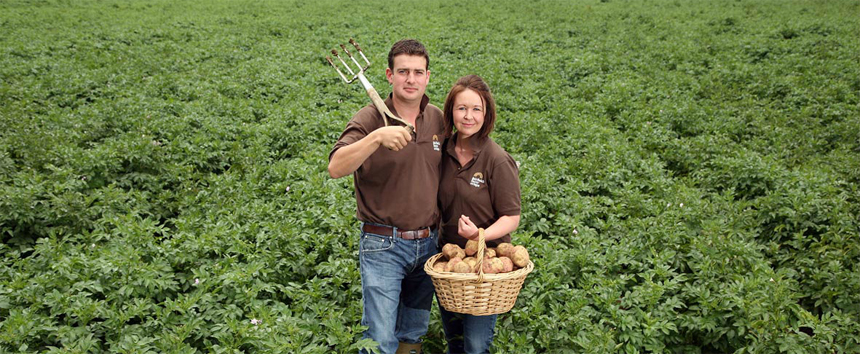 The Crisp Factory
The crisp factory at Fairfields Farm adjoins the washing and packhouse facility. Potatoes are washed and graded before entering the crisp manufacturing side of the operation.
The potatoes are weighed to a set batch size, before being sliced and handcooked in sunflower oil.
The cooked crisps are then inspected thoroughly before entering the flavouring drum which applies our range of flavours.
The flavoured crisps are finally weighed and bagged off into 40g or 150g bags before being packed into cardboard cases ready for sale.
A simple process, but it takes a whole lot of work to get from a seed potato to a bag of crisps!
Why Not Try…
Crumbling some of our Suffolk farmhouse cheddar crisps with some cheese, sprinkling over your cottage pie and finishing under the grill until golden brown!
Did you know?
We can trace each crisp packet back to the potatoes used and the field it was grown in!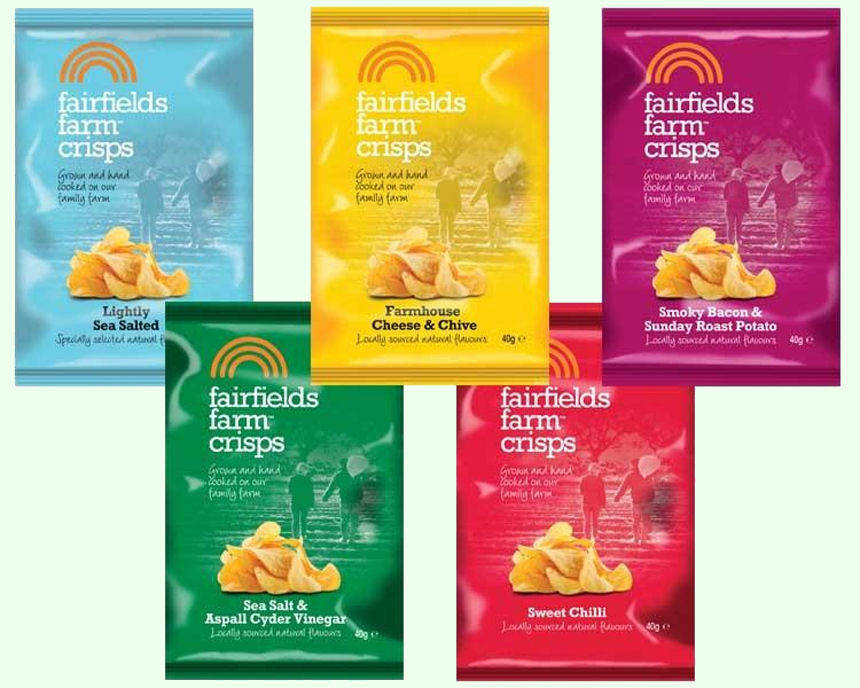 Our History
Fairfields Farm is run by husband and wife team Robert and Laura Strathern. Both from farming backgrounds Robert and Laura grow potatoes in the Colne Valley, on the Essex Suffolk border, and are the third generation to do so on the family farm.
In 2006 Robert and Laura launched Fairfields Farm Crisps, which has grown into a brand synonymous with high quality and great tasting crisps!
In 2008 Fairfields also launched their own fresh potato range of prepacked and boxed bakers, which has gone from strength to strength across the Essex and Suffolk area.
At Fairfields we pride ourselves on being able to show our valued customers which field the potatoes are grown in, and where our potatoes are stored, graded, washed, cooked and bagged– all on our family farm in the village of Wormingford.
So whether its handcooked crisps flavoured with natural ingredients sourced from East Anglia, or the freshest potatoes washed and packed ready for your convenience, here at Fairfields Farm – we pride ourselves on being the potato product experts!
Does Your Business Need Fresh Potatoes Delivered?
Fairfields deliver potatoes extensively through Suffolk and Essex, with a great range of pre packed and bulk potatoes in package and weight formats ideally matched to the needs of the convenience retail and catering customer alike.
2kg Pre Packs – A top quality washed and size graded potato presented in a 2kg bag. Varieties of Marfona, Estima and Melody great for boiling, mashing, roasting and baking. Delivered in 10 x 2kg quantities perfect for convenience retailers.
1kg Pre Packed Baby Potatoes – Great for summer salads or for boiling as new potatoes. Delivered in 20 x 1kg quantities, washed and size graded, another great product for retailers.
Boxed Bakers Potatoes – Delivered loose in 15kg quantities, washed and weight graded to 40,50 or 60 counts. Varieties used are Marfona, Estima and Melody. A great meal by themselves and highly popular for trade and retail.
25kg Loose Potatoes – Maris Piper or Markees, great for chipping.
A Family Bag Of Potatoes 7 1/2 kg – The same great quality as our 2kg pre packs but as a one sale carry out – Fantastic Value!