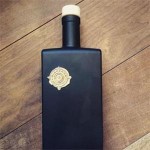 ---

It was a warm Summer's evening in Palermo, Sicily and we were handed a precious heirloom; the treasured family recipe for Sicilian Amaro. We were sworn to lifelong secrecy and vowed only to pass the recipe onto our first born children. That was in 2009 and in the years since we have made this Amaro many times back in London, but we always knew we wanted to make an Amaro that represented us and our British heritage.

This is how Dispense was born. We studied the recipes from the 17th Century's 'London Dispensatory', a catalogue of London's rich history of tonics and liqueurs. We then infused them with the intense aromas of Sicily to create something that is uniquely British but retains the heat and charm of a Sicilian Summer. Our London Amaro.
24 botanicals combine to create this rich and heady liqueur where fragrant citrus notes embrace the warmth of cardamom and clove. We add length, complexity and bitterness with British hops, milk thistle & hyssop and our signature vermouth made with wine from one of England's best producers.
 
The end result is a balanced and complex British liqueur for the modern palate: Dispense Amaro

Us
We are two brothers, Rob & Jim, based in South East London who have worked in the hospitality industry for as long as we can remember. Most of our lives has been spent working in bars, hotels and restaurants and we love the buzz, adrenaline, camaraderie and creativity that the industry has in spades.
Making drinks has been a major part of our lives and, if we're honest, drinking them even more so!

Process
We make all our products by hand in South London, using only the best natural ingredients, British if possible and organic whenever we can.

For our Dispense Amaro we make three separate macerations, the first in an organic grain spirit base to extract all our botanicals. We then macerate our more delicate aromatics in a molasses-based spirit to bring out their rich, estery qualities. Finally, we make our own British vermouth, with wine from one of England's best producers, and we blend all three of these together.

This process takes around six weeks in total and then we rack it, clarify it and bottle it by hand. It is made using traditional craft techniques, produced with integrity and only ever in small batches.