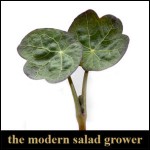 Keveral Farm, St Martins by Looe
.
.
.
Unusual Crops
Vegetables by Name
Edible Flowers
Micro Leaves
Organic (All)
Salad Crops
---
CONTACT DETAILS
          email                            orders@themodernsaladgrower.co.uk.

The Modern Salad Grower is the work of Sean O'Neill and his team. Sean has been growing organic salads for over fifteen years, working at Keveral Farm and co founding Buttervilla Growers, Keveral Community of Growers and now The Modern Salad Grower.

At the Modern Salad Grower we produce salad leaves, micro leaves, microgreens, tiny vegetables, edible flowers, herbs and salad vegetables with love and care.
We also forage a wide range of wild plants from our own organic woodlands and hedgerows. Our plants are grown in homemade organic compost, fed on our own seaweed and nettle tea feeds then watered with pure Cornish spring water.
Here in our little corner of Cornwall, our produce is grown organically and harvested at the optimum time of day for flavour and freshness.

Whilst upholding the values and many of the varieties of traditional growing, we are also pushing the frontiers of new plants and growing methods to constantly develop our range. After the success of our tiny vegetables and our forced luminance ranges, these develop further this year.

Our clients include Fifteen Cornwall, Gidleigh Park, The Ledbury, The Fat Duck, Petrus, Danesfield House, Ollie Dabbous, The Scarlet, Master Chef, The Blue Plate, River Cottage Plymouth, Alyn Williams, Ottolenghi, Disco Bistro, Channel 4, ITV, BBC, Lilly Vanilli, Alain Ducasse, The Goring, The Driftwood and many others. 

.