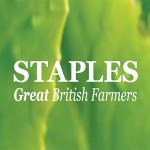 .
.
.
.
Field Crops
Vegetables by Name
Baby Veg
Brassicas
Broccoli
Broccoli Sprouting
Brussels Sprouts
Cabbage
Calabrese
Calvolo Nero
Cauliflower
Cereals
Courgettes
Curly Kale
Green Cabbage
Maize
Peas
Potatoes
Red Cabbage
Romanesco
Savoy Cabbage
Spring Greens
Sugar Beet
Sweetcorn
Sweetheart Cabbage
Tender Stem Brocolli
White Cabbage
---
PAGE  Q.R.  CODE

Wrangle Boston 
 
 
Sibsey Boston 
 
 
 Isle of Wight
 
 
 
 
 
 
 
 
 
 
 
 
CONTACT DETAILS
                                         Telephone   01205 872900
                                                 Email      sales@staplesvegetables.co.uk
Staples farm in excess of 10,000 acres, spread across the best production areas of the UK. We employ around 600 people, and believe we are the largest single production unit of brassicas in Britain.
Our long term strategy is acquisition and investment in the best farms available, in order to deliver the highest possible quality, availability and value to our customers.
We have created a unique integrated production system, which delivers the highest efficiency and lowest risk in the industry.