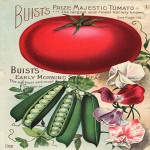 Cut Flowers
Tubers, Seeds, Bulbs, Corms and Cuttings
English Cut Flowers
Flower Seeds
Heritage Varieties
Vegetable Seeds
---
CONTACT DETAILS
TEL:      07973 919032                

 

We thought you'd like to know a little about Sheppard Seed Co

In 2011 we finally took the decision to move to the country and bought 'our place' on a lovely 2 acre plot in rural Lincolnshire. With outbuildings, a rickity stable block and plenty of flat ground we set to work tidying the place up, and sorting our then bungalow out. Soon after we started to think about what we would do with all the fertile Lincolnshire land we had. It wasn't big enough to be a small holding with animals, so we decided to turn to our first love of gardening to launch our cottage industry right here at home. .

We may not be the biggest, but what we lack in size we know we more than make up for in customer service. If you are on the look out for some British grown seeds, garden based gifts, and coming soon, UK grown cut flowers then please get in touch. If we aren't able to provide what you need

we will do all we can to put you in touch with people who can.
We look forward to hearing from you really soon!