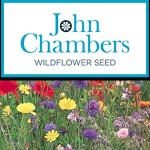 Tubers, Seeds, Bulbs, Corms and Cuttings
Meadow Seeds
Wildflower Seed
---
PAGE  Q.R.  CODE

 
 
 
 
 
 
 
 
 
 
 
 
 
 
 
 
 
 
 

About Us

Acquired by Green-tech in September 2013, John Chambers Wildflower Seed is the leading UK distributor of wildflower seed. After 20 years of working in partnership with John Chambers, Green-tech intends to continue John's work and supply native, unusual and rare wildflower seed to the landscape industry.

John Chambers is one of the leading authorities on native wildflower seed. Here at Green-tech, our team has worked in partnership with John to extract his knowledge and experience and integrate it within their own extensive range of products that aim to protect, enhance and improve the landscape environment.

The Green-tech team takes pride in the quality of the wildflower seed it supplies, whether as part of a mix for a landscape project or a single species for your garden. All seed supplied is hand-prepared and of the highest quality.

During his time as a supplier John Chambers has achieved many accolades, numerous gold medals at various shows across the country including Chelsea Flower Show and a wealth of experience working with garden designers and celebrity gardeners on their choice of wildflower.

The John Chambers Process

The team at John Chambers takes pride in the quality of the seed that is supplied whether as part of a mix for a landscape project or a single species for a country garden. All wildflower seeds are cleaned by hand, a labour intensive process that will only achieve the highest quality standards. Our team of specially trained seed cleaners only dispatch the best seed that ensures optimum growth and success no matter the climate or soil quality.

Wildflower Solutions

Selecting the correct wildflowers for your landscape project can be a daunting task. The team behind John Chambers has researched the soil types, environments, colours and flowering period for each individual stocked seed so as to provide the best possible advice. We have also developed a portfolio of wildflower seed mixtures that are specifically suited to certain growing environments.