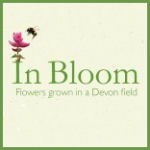 Shillingford, nr Exeter
.
.
.
English Cut Flowers
Organic flowers
---
Welcome to In Bloom. Our flowers celebrate the beauty and variety of nature, reflecting the gifts that each season brings. Grown locally, the flowers that you buy will be delivered to you within hours of picking.

We grow our flowers in a field 5 miles from Exeter, Devon. We grow a mixture of traditional and new varieties of flowers chosen for their colour and fragrance.

Grown entirely without the use of pesticides and artificial fertilizers, the bees and other pollinating insects love them. Our flower beds are humming!

About us

Jenny Carter and Nicola Beglin – We've been inspired by the growing numbers of cut flower growers in the UK who want to provide the gift of beautiful, locally grown, seasonal, fresh flowers.

As a partnership, we combine horticultural knowledge and design skills with a love of flowers and a commitment to chemical free growing.