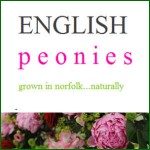 Knapton

.
.
.
Cut Flowers
Ornamental Plants
English Cut Flowers
Peonies
---
PAGE  Q.R.  CODE

 
 
 
 
 
 
 
 
 
 
 
 
 
 
 
 
 
 
 
CONTACT DETAILS
                                                 Telephone   telephone  01263 720414    mobile  07990582847 
                                                    Email    englishpeonies@btinternet.com

English Peonies

In the beautiful lush surroundings of the Norfolk Coast,  surrounded by  fields of sugar beet, potatoes and barley,  is a pocket of East Anglian countryside,  home to a field of fabulous pink Sarah Bernhardt peonies.

For the past 40 years, the peonies have been cultivated on the family farm using traditional growing methods handed down from generation to generation to produce every summer a stunning array of peonies.

The Peonies flower in June. Each plant is individually cultivated  and produce spectacular, fragrant blooms fabulous for any event or occasion.

Our flowers are used at the  Royal Norfolk Show, Chelsea Flower Show, corporate events, weddings, summer balls and  church arrangements.

Once harvested the flowers are conditioned and dispatched directly from the farm throughout the UK for next day delivery.

About Us

The peonies were planted forty years ago by horticulturalist Betty Hammond and produce over two thousand blooms each season.

The task of tending the plants and harvesting the flowers has passed down a generation to her daughter-in law, Sarah helped by friends and family.

We start cutting our peonies  when the buds are perfect. We take great care to ensure  that the flowers are delivered to all customers at exactly the requested stage of openness from a tight bud to a fully open bloom.

Our peonies are renown for their high quality full blooms and strong form. All our flowers are hand-picked  in the morning by dedicated, expert pickers, who collect and condition the blooms in our own barn on the farm to ensure maximum freshness and vase life.

Supporting our local customers and business is important. Our seasonal flowers travel only short distances to local florists, farm shops and farmers markets.
We do also supply florists and customers nationally.

The flowers are dispatched straight from the farm.

History

Peonies are  fragrant long lasting cut flowers which will often have a vase life of two full weeks. The peony is named after Paeon who was a student of the greek god of medicine and healing, Asclepius. The master Asclepius, became jealous of his pupil and Paeon was saved by Zeus, who to protect him from the wrat of his tutor, turned him into the peony flower.

Peony or paeony is a name for plants in the genus Paeonia and are native to Asia, southern Europe and western, north America.

Grown in China, where it is seen as flower of riches and honour, Japan as 'The King of flowers' and in Indiana, America, as the state flower, the Peony is revered for its beauty and symbolism..

Herbaceous peonies have a long history as cut flowers, mentioned by Thomas Tusser in the sixteenth century with Roses, Nigella and lilies.

They were also featured in the romantic flower arrangements painted by Dutch Artists of the 19th Century.

The peony was introduced into England around that time and have been a popular cut flower ever since.