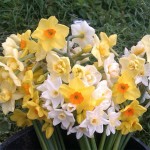 English Cut Flowers
Organic
---
PAGE  Q.R.  CODE

 
 
 
 
 
 
 
 
 
 
 
 
 
 
 
 
 
CONTACT DETAILS
                                    Telephone     07850 138899
                                                   Email              ducksdaffodils@gmail.com
                                                      Goodness Organic Farm, off Sheriff Hutton Road, Strensall, York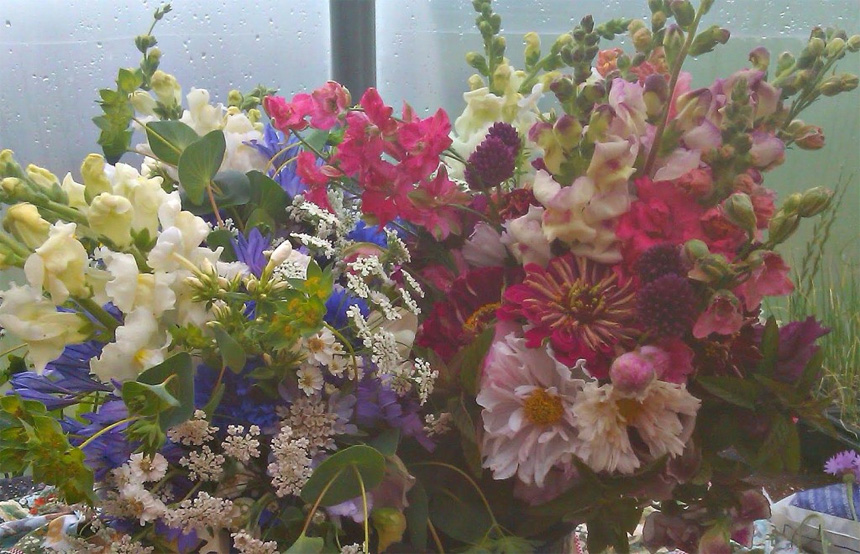 About us
Ducks and Daffodils is a small scale organic flower-growing business based in York. We believe that British flowers are fresher, better value and more sustainable than imported cut flowers. We use organic methods of production which respect wildlife and the soil itself. No harmful chemicals are used, packaging is biodegradable, and we try to always "Reduce, Recycle and Reuse"! From April 2013 our flowers will be grown on Soil Association certified organic land.
We grow a variety of traditional annuals including cosmos, dahlias, larkspur, cornflowers and sunflowers, and perennials such as astrantia, achillea, helenium, verbena and rudbeckia. Sweet peas are a favourite and plentiful during summer. We try to have seasonal flowers, herbs and foliage available all year round. We aim to have dried flowers and grasses available over the winter months.
We can make informal bunches or posies of seasonal cottage garden flowers to order, priced to suit your budget. We can also provide mixed buckets of freshly picked flowers to be arranged as required for weddings, natural funerals, parties and events. You are welcome to visit the site by prior appointment to discuss your needs or to choose your own flowers for a special occasion. These services are also available to local bed & breakfasts, hotels, shops and cafes. Enquiries from florists or wholesalers are very welcome.
We can deliver flowers in the local area, or you are welcome to collect from our site. For pre-made bunches and posies, our farm shop is located just outside Strensall, York and is open Tuesday-Saturday. Please phone ahead if you have specific requirements and we will do our best to accomodate your wishes.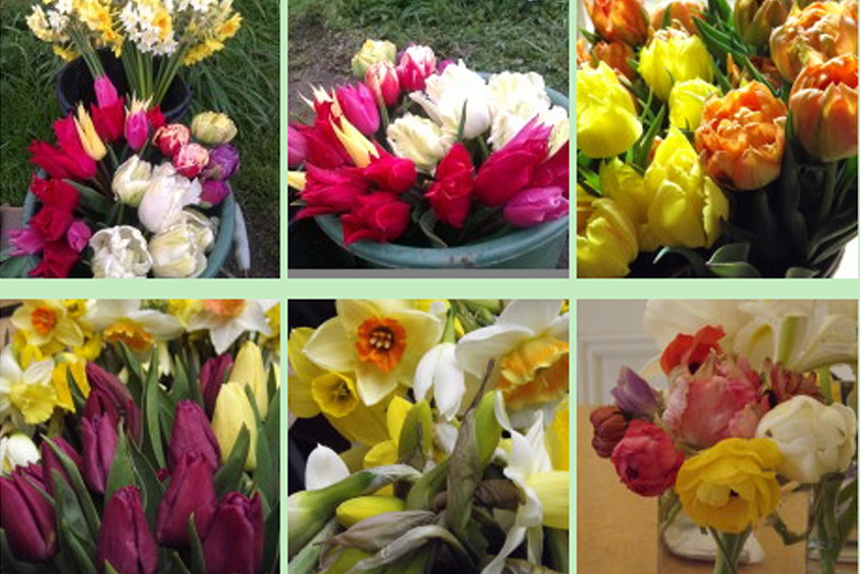 British Flowers
The once strong British cut flower industry has been badly affected by increased use of cheaper imported flowers over the last 40 years. When buying from Ducks & Daffodils you are not only supporting British produce and British business, you may also become reacquainted with some long neglected beautiful British blooms.
 
Seasonality
Our flowers change with the natural cycle of the year. Our buckets and bouquets will always reflect the best that the season has to offer from early daffodils through to colourful dogwoods. Your vase of Ducks & Daffodils flowers will act as a visual guide to the changing seasons.
 
Organic Growing
Ducks & Daffodils flowers are grown on Soil Associaton certified Organic land. We use no chemicals on the land or our flowers; we aim to recycle and reuse as much as possible; we encourage biodiversity in the cutting garden; we understand the need to respect the soil we grow in.