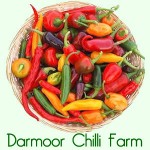 Dartmoor Chilli Farm, Rosebarn Nursery, Auswell, Ashburton
.
.
.
---

Dartmoor Chilli Farm is located within the beautiful Dartmoor National Park in Devon. We have been growing chillies commercially since 2007.

We specialise in growing over one hundred varieties of sweet pepper and chillies – everything from the humble Jalapeno to the downright scary Dorset Naga.  In 2014, we are also growing the Carolina Reaper and the Trinidad Morouga Scorpion.fresh pods

We also have a range of hand made chilli chutneys, chilli jams, cards, sauces, chilli fudge, chilli pickles, chilli oil and our award winning chilli chocolate.  Our range of quality preserves and sauces all made traditionally by hand in small regular batches for maximum quality and flavour.

We are a very eco friendly business. We run our nursery using wind and solar power and use green initiatives such as Rainwater harvesting and recycling.

Our plants are grown naturally and holistically without any pesticides, herbicides or fungicides. We are members of the Wholesome Food Association.

Please note that due to National Park restrictions, we are not permitted to have visitors.  We recommend customers contact our  local stockists or alternatively come and see us at one of the many events we attend.    

 

We farm naturally and holistically without the use of herbicides or pesticides and use nature and hard work to minimise the damage caused by pests such as biological control, regular hand removal of slugs and snails, companion planting and encourage natural wildlife habitats for greater biodiversity. We start sowing our seeds in January using the biodynamic cycle.

We are a green company with a very low carbon foot print. Caring for the environment is very important to us.   

We won the BEST GREEN BUSINESS at the South Devon Excellence Awards 2010.

We were runners up in the 2010 FSB Small Business Awards for Environmental Responsibility.  We have also been awarded a Dartmoor First award for environmental sustainability.

We were also finalists in the DEBI Awards in the category of Climate Change Innovation.

The nursery is off grid, we create our own electricity with solar panels and a wind turbine and harvest rain water for our plants.

At the nursery we have a small orchard, a range of soft fruit, raised vegetable beds and sell a range of herbs and Rhubarb plants which are also available by mail order.
The nursery is not open to the public therefore we sell our plants and produce mail order and from various stockists locally and throughout the country. Please check out our stockists. Our produce and plants are also available at local farmers markets.
We  grow over ninety (90) varieties of pepper including sweet, mild, medium, hot and extreme.
Our mail order plants are supplied in 7cm pots from April to August  each year with a minimum order of just three plants.  Larger 1 and 2 litre pots are available from us at farmers markets or through one of our stockists.
We also supply fresh chilli packs which are available from August.  We have standard mixed packs and specialist packs picked to order.
Our produce range includes ten flavours of chilli chocolate, a range of chutneys from sweet and mild to extremely hot, sweet chilli sauce and a very hot Dartmoor Dynamite sauce, chilli jelly and chilli jam all in our distinctive Dartmoor Chilli Farm packaging.
Dartmoor Chilli Farm produces a range of quality preserves and sauces all made traditionally by hand in small regular batches for maximum quality and flavour.
We use our own chillies in all of our chilli produce.

Along with our chillies and sweet peppers we also grow :
Rhubarb
Apples
Strawberries
Tomatoes
Gooseberries
Blackberries
Red Currants
Blackcurrants
Elderflowers and berries
Courgettes
Aubergines
Which we use in our produce.

We are always looking at new flavours and produce to increase our existing range.