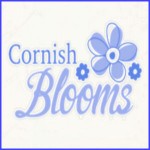 Little Drym Flower Farm, Praze, Camborne
.
.
.
---
CONTACT DETAILS
              Tel:  0800 0938564

The Cornish Blooms Flower Farm
how we grow, pick & send your flowers

Our flower farm is situated in South West Cornwall. We are a small family business, Liz and Roger have been growing flowers here for 30 years. Beth and her husband Simon, and daughter Daisy have recently moved back to Cornwall to join the family business.
We grow as many of our own flowers as possible. Our main crops are Narcissi flowers through the winter months, and Show pinks during the summer, which we can send for you to your friends and family by 1st class post.

Because we grow pick and pack most of our flowers we take great pride in making sure your gifts are filled with the freshest flowers possible.  

We also grow flowers which we send to Covent Garden Markets, such as Green Iris, Muscari, Anemones, Kaffir Lilies, Brodea, Japanese Asters, Crocosmia Lucifer, Canterbury Bells and Sweet Peas. We grow our own Eucalyptis foliage which is sent with the flowers.

During certain months of the year we are able to send bouquets

 and posies of these other flowers, which we will make available to order from our homepage.

We send our flowers all over the UK and aim to get your flowers sent to you as soon as possible once you have placed your order online. We're also more than happy to help with any special requests you may have so do please get in touch and we'll see what we can do.

 Your support for our English flowers means a lot and selling our flowers online has meant that we are able to reach the whole of the UK, sharing the quality and freshness English grown flowers have to offer.