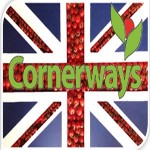 Norfolk

.
.
.
---
 
 
 
 

PAGE  Q.R.  CODE

 
 

 
 
 
 
 
 
 
 
 
 
 
 
 
 
 
 
 
 
 
CONTACT DETAILS
                                             Telephone               


Cornerways nursery to replace tomatoes with cannabis 
The Cornerways tomato glasshouse has been converted into production of strain of cannabis for the pharmaceutical sector.

The deal, announced  by Cornerways owner British Sugar, will see the crop used as an ingredient in a new prescription medicine being developed to treat rare forms of epilepsy in children.

It will be grown under contract for British drugs company GW Phamaceuticals, with production set to begin in 2017. Tomato production at Cornerways' Wissington nursery will be phased out from November of this year, after all existing supply commitments for tomatoes are fulfilled.

Thanet Earth, which previously marketed Cornerways tomatoes, confirmed the contract between the two companies has ended. Thanet Earth said it is in the final stages of construction fir its fifth glasshouse, which will create a further 6.35 hectares of tomato production and partially replace the Cornerways supply.

"It has been a pleasure to work with the team at Cornerways this year, and we have enjoyed a very successful season of tomato production from their facility," a Thanet Earth statement said.

"Should British Sugar revert to tomato production in the future, Thanet Earth remains the marketing partner and would resume the responsibility for crop planning and marketing once more."

The medicine, known as Epidiolex, has recently completed trials at the Great Ormond Street Hospital for Children in London, as well as other hospitals in the UK, Europe and the US. The contract with GW Pharmaceuticals is a step in making this medicine more widely available, British Sugar said.

The active ingredient is known as Cannabidiol (CBD), sourced from a non‐psychoactive variety of the cannabis plant family, which is specifically bred for medical purposes.

British Sugar managing director Paul Kenward said: "Sixteen years ago we realised we could use some of the heat and waste carbon dioxide generated in our Wissington sugar factory to develop a horticultural business.

"This new era for our horticultural business uses all we have learned to date to further build this value stream for British Sugar and to benefit the pharmaceutical industry. Furthermore, we are extremely proud that our new crop will make a worthwhile contribution to the control of such a debilitating childhood disease. Annually, we will produce enough of this ingredient to treat the equivalent of up to 40,000 children globally."

Chair of Dravet Syndrome UK Galia Wilson said: ''Dravet syndrome is one of several rare but serious forms of epilepsy in children and adults for which there are limited treatment options. We welcome the development of any medicine that may help this complex patient group with high levels of unmet need.''

 
Below is when Tomatoes were grown no information available about the Cannabis production

from the uks largest single glasshouse

 

British Sugar's award-winning horticulture business produces around 140 million 'eco-friendly' tomatoes each year at Cornerways Nursery.

 

A quarter of a million plants are grown in the UK's largest single tomato glasshouse, which covers an area of 18 hectares. The fruit are harvested between February and November.

 

All the produce is packed on-site in a modern packhouse, minimising handling and transport and allowing produce to be despatched for supermarket shelves directly from the nursery.

 

Over 8,500 bumblebees, living in 170 bee hives, pollinate the crop and are part of the nursery's integrated approach to crop management using natural agents and predators in preference to agro-chemicals.

 

Cornerways Nursery benefits from its location close to the Wissington sugar factory. More than two hundred and forty miles of piping carries hot water from the factory's Combined Heat and Power (CHP) plant around the glasshouse, to maintain the balmy temperatures which suit tomato plants. This hot water would otherwise be destined for cooling towers, so the scheme ensures that the heat is used productively.

 

Another benefit is the productive use of waste carbon dioxide from the sugar factory, which tomatoes use during photosynthesis. At Cornerways, carbon dioxide (a by-product from the CHP boiler) is pumped into the enormous glasshouse to be absorbed by the plants, rather than vented into the atmosphere as waste emissions.

 

The site also harvests the rainwater from the giant glasshouse roof; over 115 million litres are collected annually to irrigate the plants.

What is grafting?

The young plants that come to us have all been grafted. Grafting is simply cutting the head of a tomato plant with nice tasting fruit and sticking it on top of another tomato plant with strong roots (see photo). We do this because some of our best tasting tomato varieties do not have strong roots and by grafting them on to a strong root stock we can increase the amount of delicious fruit the plant grows.
Grafting is a very popular technique throughout farming and most wine grapes and apples come from grafted plants. It is a long established technique that ensures the best tasting fruit along with the most disease resistant roots. Even all the garden roses you see are grafted!