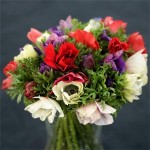 FLOWERS BY CLOWANCE
Praze, Camborne
.
.
.
---
CONTACT DETAILS
            Tel:  01209 831317
          email   info@flowersbyclowance.co.uk

Clowance Wood Nurseries are a family run cornish cut Flower nursery established for over 63 years, now with the third generation of the family, grandson James at the helm, with father Alan always to hand. The Nursery is situated in the idyllic setting of Praze, in the heart of the horticultural growing region of Cornwall.

Who are Flowers by Clowance?

First and foremost, Clowance Wood Nurseries are a commercial nursery, specialising in large scale production of protected cut flowers. With over two and a half acres of modern glass, half an acre of protected plastic tunnels, and 30+ acres of arable farm land, Clowance Wood Nurseries are a major player in protected growing in the South West.

Our Flowers
Main cut flower crops grown include: Freesia, chrysanthemum, alstromeria, stock, delphinium, lily, trachelium, aster, sunflower, iris, anemone, ageratum etc. The Nursery also has a large wholesale/florist sundry department, supplying all the main florists in the South West, six days a week.

Our Floristry Department
The Floristry Department is also a major part of the business. With three full time florists employed, they can produce anything from a simple cello of freshly picked Cornish flowers, to a complete wedding order including church and reception arrangements.

 

English Cutflowers and Foliages direct to your business next day

Flowers by Clowance can supply wholesale English Cutflowers and foliages direct to your business next day via courier. Our English Flowers Direct service is ideal for Florists, Flower Wholesalers, Wedding planners, Farm Shops, Restaurants, Churches and Hotels who want to use locally grown English cut flowers and foliages.

Why use Flowers by Clowance?
We grow and source beautiful English cut flowers and foliages all year round here at Clowance and can supply these flowers / foliages to your business on a wholesale basis. Our next day delivery service via courier has attracted over 1050 top florists from all over the country from Cornwall to Scotland.

Who we supply
We also supply many leading Flower Markets across the country with our home grown English flowers including Ferryfast Flowers based in Evesham, Premier Flowers in Gateshead, Flower Vision in London and Wolverhampton Flowers in the Midlands

Order options
When ordering your fresh English flowers and foliages, you can either select whole boxes of just one variety or choose your own mix box of different varieties. This is why our English Flowers Direct service is so unique.

Flower delivery
Our boxes of wholesale English cut flowers and foliages are sent out in recycled boxes where possible. We use a local courier business to deliver your flowers next day – 5 days a week, 52 weeks a year. We grow and source locally many different varieties of English cut flowers and foliages including – Alstromeria, Anemonies, Asters, Agapanthus, Box, Brodiea, Chrysanthemums, Daffodils/Sols, Dahlias, Delphiniums, Lily of the Valley, Freesias, Holly wreaths, Parvi, Pitto Scilla, Sweet William, Sweet Peas, Statice and Stocks to name a few. We also source English flowers and Foliages from local growers around the country.