Kent and Staffordshire
.
.
.
Fruit Trees, Bushes & Plants
Ornamental Plants
Ornamental Trees and Shrubs
Fruit Trees
Herbaceous Perennials
Ornamental Shrubs
Ornamental Trees
Soft Fruit Trees
---
| | | | | |
| --- | --- | --- | --- | --- |
| | | | | |
| | Kent |   |   |   |
| | Staffordshire |   |   |   |
|   |   |   |   |   |
|   |   |   |   |   |


Plant Nurseries and Business Centres in Kent and Staffordshire
William and Louise Friend run a small, 'Friendly', family run business at two combined plant nurseries and business centres ; "East Northdown Farm and Gardens" at East Northdown Farm, Margate,Kent CT9 3TS  located on Kent's North East tip, near the original 'Botany Bay' and the other "Mucklestone Nurseries and Business Centre", TF9 4DN :- located in the conservation village of Mucklestone , on the borders of Staffordshire, Cheshire and Shropshire.
At East Northdown Farm & Gardens, our Kent plant nursery, we specialise in coping with the problems of growing plants in chalky, coastal conditions and are always happy to give advice and select plants for a particular situation.
The adjoining East Northdown Farm Business Centre has provided premises for a growing number of over 20 local small businesses, community groups, charities of all types, serving the local community, for the past 20 years, in the tranquil garden and farmyard setting.
Our farmshop and tearoom-"Taddy's Barn", serves coffees, teas and light lunches to customers and visitors to nurseries and gardens , and is a popular meeting place for local clubs and groups. "Sackett's Barn" is also available to hire as an art studio / gallery and for daytime meetings, lectures etc.- just a short distance from Margate's developing art scene. These facilities have both been run by a local community group for the last few years who are now moving to new premises, but is re-opening on the 7th September by Carol Lechev, our prize winning beekeeper who already runs "Botany Bay Bee Farm".
Our second plant nursery, Mucklestone Nurseries & Woodland Gardens, in Staffordshire, specialises in Woodland and Meadow plants. i.e. those plants better suited to the cooler, wetter, more acidic conditions prevalent in the north and west of Britain, such as perennials, ferns, bamboos and Rhododendrons.
As well as providing premises for a range of rural enterprises-on the farm, nursery and woodlands , Mucklestone Business Centre, now also provides premises for an increasing number local small businesses. Approval has now also been given for a further range of barns in a wonderful setting of rolling species rich parkland, which are being upgraded to individuals requirements as required, – can we help you?
Both Nurseries offer visitors the chance to browse around our extensive gardens and grounds, and particularly to see our two complimentary botanical collections of plants. Each area has a very different climate, we propagate at both from plants that have been proven to do well and be hardy. We are therefore able to offer a uniquely comprehensive range of plants for growing conditions across the U.K. from our two sites , to nursery visitors or by mail order.
Visitor's are encouraged to explore the grounds at each site to see and compare growing specimens of the plants they are interested in, both collections are fully indexed. Guided walks can be organised for garden societies and groups, and William gives garden talks to clubs throughout Kent and the Staffs/Shrops/Cheshire area. You can choose your plants from our online plant list that is available in PDF or Excel format.
William's roots extend far into the past at both farms. 'Friends, Tomlins, Sacketts and Taddys' at East Northdown, and William's maternal family, the Hinchliffe, Crewe, and Offley families, in Mucklestone. For details of local history see blog ., or contact us if we can help you trace your roots.
Each combined nursery, farm and business centre, continues to serves as a hub of local community life, offering affordable start up premises and facilities for local businesses, groups and charities, retaining the original farm, garden and parkland character of each site.

East Northdown Farm Plant Nurseries in Margate Kent
East Northdown Farm, in Margate, Kent is our home nursery in the North East corner of Kent, plants are propagated from stock plants in the gardens that have been proven to suit the local chalk soil, low rainfall and drying winds, including many tender 'sea-side' plants. A full range of bedding, veg plants and 'old fashioned' conservatory plants are also grown.These plants are listed in our online catalogue with RHS nursery location code SEND (South:- East North Down).
East Northdown Farm Plant Nursery & Gardens is the largest Independent Plant Nursery in the East Kent area. It is a plantsman's paradise selling one of the most comprehensive range of plants in East Kent, where possible propagated from proven stock in the gardens, and of goodvalue larger trees and shrubs. William and Louise are normally on hand to answer any questions and give help and advice. We are able to help by offering free advisory visits to your garden to identify what plants you already have and how to tackle any specific problems. Whilst we do not carry out 'hard landscaping' we are able to select, lay out and plant up the spaces in your garden, once prepared, at little or no additional cost other than that of the plants used, to give the effect you want, with plants suited to your conditions.
As well as coastal and chalk loving plants we are able to offer pond, meadow and ericaceous plants from our sister nursery in the Midlands, for those who have the right conditions to grow these, as well as our own Christmas trees, and field grown trees in season. Between the two sites we are able to offer a uniquely comprehensive range of garden plants for growing conditions across the country. These are listed on our on line catalogue at www.botanyplants.co.uk
We have extensive plantings around the carparks, road frontage and business centre as well as the farmhouse gardens. Plants are chosen to cope with local chalky and coastal conditions and include many rare or unusual slightly tender 'Mediterranean' plants.
Visitors can explore the gardens at anytime during opening hours, at no charge.
Taddy's Barn Tearooms are normally open daily, offering teas and light lunches. It is an excellent venue to meet friends or to take a break from exploring the Gardens, local beeches or Margate's up and coming art scene and retro shops. The Tearooms and Art Studio have been run by a local community group who are now relocating and is now to be run by Carol Lechev , our resident award winning beekeeper at "Botany Bay Bee Farm" from the 7th Sept 2015.
William gives gardening talks to local clubs and societies and also guided walks through the gardens on charity open days in the summer. These are also arranged for schools and clubs for summer outings by appointment. At other times notes on what is flowering in the garden are available, and staff on hand to answer questions.
Whilst most of our customers live locally,  we also get to see lots of holidaymakers, too, who are staying in the nearby towns or visiting relatives in the area. Our selection and prices are hard to beat.
We are always happy to see any visitors and you can be sure of a warm welcome when visiting the nursery.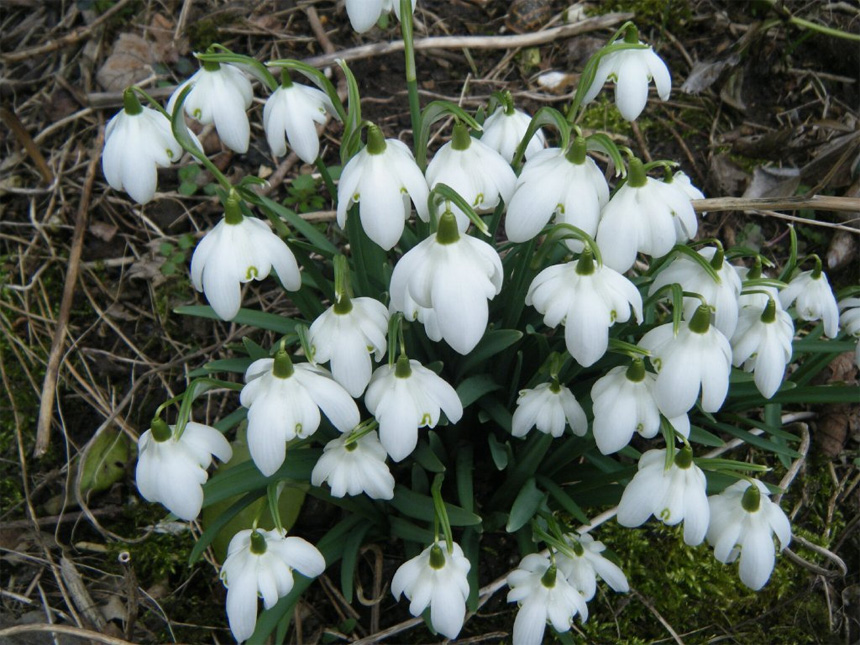 Mucklestone Nurseries in North Shropshire / Staffordshire
Our second plant nursery in the West Midlands specializes in a complimentary range of plants better suited to the cooler, wetter, more acidic conditions of the north and west of Britain. The plants that are grown and propagated at Mucklestone have the RHS location code MMuc. in our online catalogue
Specialist Plant Centre
Mucklestone Nurseries is a newly re-established nursery set up by William Friend (Mucklestone nursery map here). William now lives and has a nursery in Kent where he grows 'Mediterranean' plants, suited to the dry, exposed but mild micro-climate of the Isle of Thanet. At Mucklestone Nurseries he is now able to grow a complimentary range of plants suited to the moister, more acidic conditions of the west and north of Britain, such as azaleas, heathers, rhododendrons, bamboos, birches, rowans, acers and herbaceous perennials. Thus a complete range of plants can now be grown across the two sites in their optimal growing conditions. The areas around the nursery and around the business centre are being laid out as woodland and meadow garden areas. This allows the majority of plants to be propagated from stock of proven hardiness and suitability to the area and allows visitors to see how the plants grow. William has restored the farmhouse gardens with traditional mixed borders and orchards.
We are a family run plant nursery in a stunning rural landscape
Close to Hodnet,Wollaton, Bridgemere and Dorothy Clive Gardens
Free local delivery and garden consultation service
1000's of different trees shrubs and perennials to choose from suitable to local conditions, most of which can be seen growing around the gardens and grounds.
Stock of larger specimen trees and shrubs at competitive prices.
 Mucklestone Nurseries is in a stunning location, with views across to North Wales and Shropshire, and across to Mucklestone Church. The Nurseries form part of 'Church Farm' which has extensive native woodlands, ponds and natural unimproved meadows. It is managed to enhance these habitats for the many threatened species such as wild daffodils and native dormice, found on the farm. Visitors can explore the garden areas at any time at no charge or alternatively check our website for open days, when visitors can be shown round the farm, woodlands, gardens and Nursery.
William is available by appointment (01630 674284, 01843 862060, m.07714241668), to give talks to garden groups in the Staffordshire, Shropshire Cheshire area, or guided tours of his gardens.
Mucklestone Nurseries and Business Center hosts an Annual Spring Woodland Walk starting from the nursery. The walk is normally held on the 1st Saturday after Easter, this year,- Sat. April 11th 2015, during the afternoon. The walk is entirely free. Items of of geological, botanical and general interest are  marked along the route, with notes. A ful copy of these 'teachers notes' is available to download, and can form a useful teaching aid for students of all ages.  Teas are provided in St. Mary's Church by the ladies of Mucklestone W.I. and stewarded by volunteers of the Turner Hodgkiss Community Nature reserve. Those unable to attend on the day may follow the trail from the Nursery at any time during April and the first week of May .
Plants from both nurseries are available on the website www.botanyplants.co.uk. for mail order and can be taken to either nursery for collection. Janet Bourne is in charge of the nursery, when William and Louise are in Kent and can be reached on the nursery land line 01630 674284, or mob. 07929 178751.  We are open daily, except Sundays, all year. Janet is not normally at the nursery on Mondays and Tuesdays , but Peter Ray is available to assist instead. You may need to call him on arrival if he is working around the farm. If coming far please check first.
The Farm is also home to a growing number of small businesses, directly on the farm and woods and also in the Business Centre- in the old farm buildings   in the village.  If you are looking to relocate your business, why not join us in this attractive rural village setting , where we can tailor premises to your requirements.