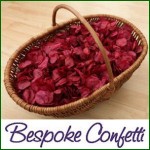 Walders Court, Woodgate, Culmstock
.
.
.
---
CONTACT DETAILS
              TEL:      01884 841561  

Natural biodegradable petal confetti

The petals are natural larkspur, cornflower and bougainvillea, grown to organic standard without the use of pesticide or other chemical. They are hand picked and dried using all that nature provides. Nothing is added, and nothing is taken away, they are a true representation of confetti in its most natural state.

If you would like to talk to us about our natural confetti products please phone
01884 841561

About Us

We were introduced to the idea of growing real petal wedding confetti by some friends. The tradition of confetti is as old as pagan times, but has recently grown out of favour, due to environmental concerns and the amount of litter it produces.

With our love of the outdoors and concerns for the environment, and of not losing our native traditions, decided to grow flower petal confetti here in the lea of the Blackdown Hills, an area of outstanding natural beauty, situated on the Devon and Somerset Borders.

We started four years ago, while we both had full time employment. With the help of neighbours and students to pick the petals, it became obvious to us that we have a beautiful product, which deserved to have greater recognition. We made the decision to develop the Bespoke Confetti Company, which has been founded on the natural flower petal of the larkspur and that of the cornflower. Our ethic is to provide you with a bespoke service, and to tailor our natural biodegradable confetti to your needs.

Our belief is that we can provide an English natural organic based biodegradable confetti, available in a wide range of colours and without compromise on quality.

We hope that in some way we can help keep the confetti tradition alive, and whilst doing so, enhance your day with a clear conscience.