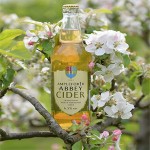 Juice, Cider, Wine and Drinks etc
Apple Juice
Cider
Cider Brandy
---
PAGE  Q.R.  CODE

 
 
 
 
 
 
 
 
 
 
 
 
 
 
 
 
 
 
CONTACT DETAILS
                            Ampleforth Abbey Shop:        01439 766778
                            Wholesale & Enquiries:           01439 766811
                                     Email    abbeydrinks@ampleforth.org.uk 

Ampleforth Abbey – A Brief History

Ampleforth Abbey is home to a Community of Benedictine monks who settled here in 1802 after a period of exile in France followed by a few years in Lancashire. The Community traces its origins back to Westminster Abbey.

The monks are engaged in a variety of works running schools, parishes and a hospitality department as well as an orchard and shop.

What is now a College of over 600 students began in 1803 with pupils from Lambspring Abbey in Germany. There is also a junior school, St Martin's Ampleforth at Gilling Castle.

In Oxford, Ampleforth has St Benet's Hall, a private hall of the University.

In 1955, a foundation was made from Ampleforth at St Louis, Missouri USA, which achieved its independence in 1973 and became an Abbey in 1989.

In 1997 the Monastery of Christ the Word was founded at Macheke, Zimbabwe and there are also other dependent Priories called Monasteries in Osmotherley and Bamber Bridge, Preston.

The first Abbey Church built in the 19th century was demolished to make way for completion of the Church which began with the building of the choir in 1924 and was finished and consecrated in 1961.

If you are interested in more historic documents and photographs on Ampleforth Abbey please visit the Monastery Library website.

 
.
 

Ampleforth Abbey Still Cider
The cider is harvested from the Abbey's cider orchard's, the most northerly in the UK. Matured for around six months before being filtered and bottled on site at Ampleforth, the medium sweet, uncarbonated cider has a distinct apple flavour.

Ampleforth Abbey Beer
In 1608 a community of Benedictine monks fled England for the safety of France. Determined to make a living for themselves, they began brewing their native beer- 'la biere anglaise'. It was made with hops and barley, then double fermented for strength and a 'champagne-like' sparkle. In 1793, escaping the French Revolution, they fled back to England and eventually settled in at Ampleforth in 1802, and built the Abbey. And today the beer, to a similar recipe, is being brewed and poured again.
The beer can be bought in individual bottles on site at the Abbey Shop or Tea Room.

Ampleforth Abbey Cider
Cameron Smith makes this famous cider on site from our own orchard's apples in the traditional way. The result is our Premium Cider, a strong (8.3%), dry cider, where the final phase of fermentation often takes place in the bottle, making it quite lively! It is best served well chilled. We have now also introduced a slightly sparkling 6.5% cider. It won the Cider World Cup in 2012 and also the Bronze Award in the recent International Cider Challenge, competing against over 100 ciders from around the world.

Ampleforth Cider Brandy
Produced from apples grown in the orchards at Ampleforth and aged in oak barrels for five years, this cider brandy combines traditional monastic skills and modern technology for the highest standards of distillation. The taste is completely dry – somewhere between calvados and grappa.

Ampleforth Apple Liqueur
Our award winning Ampleforth Apple Liqueur is half Ampleforth's Cider Brandy and half freshly crushed apple juice. The bottle itself is beautiful, making it a spectacular gift. It was named Yorkshire's Best Drink by Deliciously Yorkshire in 2010/11

Ampleforth Sloe Gin
Sloes grow abundantly in the blackthorn hedges of Ampleforth Abbey in North Yorkshire. Traditionally they were hand-picked by the monks and then steeped in gin spirit to produce a liqueur full of natural colour and flavour. Today you can enjoy the great heritage of Ampleforth Sloe Gin, delicious on its own, as an elegant digestif, or as an unusual aperitif on ice.

Ampleforth Damson Gin
Damsons grow well in the long, ripening autumns of North Yorkshire, the home of Ampleforth Abbey. The monks traditionally steeped the fruit in gin spirit to produce a liqueur full of natural colour and flavour. Today you can enjoy the great heritage of Ampleforth Damson Gin , delicious on its own or on ice as an aperitif.

Ampleforth Elderberry Gin
Elder grows in profusion along the byways around Ampleforth Abbey in North Yorkshire. The berries were picked at their ripest by the monks and steeped in gin spirit to produce a liqueur full of natural colour and earthy, mineral flavour. Since Old Testament times elderberries have been linked with good health and today you can enjoy the great heritage of Ampleforth Elderberry Gin on its own or over ice.