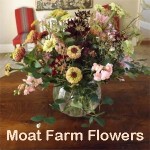 Dennington, Woodbridge.
07799 621403
British Cut Flowers
English Cut Flowers
Event Floristry
---
ABOUT MOAT FARM FLOWERS

An English flower farm in the heart of Suffolk, just north of the market town of Framlingham.
A love of flowers, gardening and particularly making seasonal bouquets and arrangements left me thinking about the origin (Holland, Kenya and South America) of the flowers I was using. We have all become aware of food miles, now is a chance to cut our flower miles too.

With plenty of space here at Moat Farm the answer was to start growing an ever expanding range of flowers ourselves. So, during the past year, the sheltered vegetable garden has been turned over to tulips, larkspur and peonies, the crumbling red bricks and cracked concrete of the old cattle yard have been transformed into a cutting garden bursting with annuals and dahlias in raised beds, and now the paddock is being planted for scale flower production next spring. We also have a polytunnel to extend the season and tide us over the cold, dry East Anglian winters.
There is nothing to beat the scent and beauty of freshly picked flowers, whether for a wedding or party, a regular delivery or one off bouquet, or buckets of flowers to arrange yourself. We also sell to local florists.
If the idea of truly local flowers picked in their own season appeals to you, then please get in touch.

Here is a selection of the flowers which we grow.

Spring: hellebores, narcissi, muscari. hyacinths, tulips, lilac, various early flowering shrubs.

Summer: alliums, sweet peas, lilies, peonies, antirhinums, lavender, roses, delphiniums, larkspur, foxgloves, scabious, cosmos, zinnias.