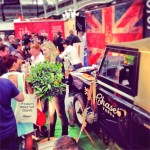 Rosemaund Farm, Hereford.
01531 670 049
.
Gin
Liqueur from Local UK Fruit
Vodka
---
 We're a family owned, single estate distillery, creating fine spirits since 2008 from the produce grown on our farm in Herefordshire. We use a bespoke, handcrafted copper batch pot and every bottle is filled and sealed by hand.

OUR FARM

Our farm is based in Herefordshire, a region that boasts some of the richest farmland in the world. It's here that we grow King Edward and Lady Claire potatoes for the distillery, as well as cider apples for our apple vodka and gin.

Having the distillery located on the farm allows us to keep a watchful eye over how our potatoes and apples move from field to bottle.

It's this single-estate approach that makes us different – something you can taste in our award winning vodka.