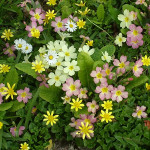 Ornamental Plants
Ornamental Trees and Shrubs
Vegetables by Name
Ornamental Shrubs
Ornamental Trees
Various Ornamental Plants
Vegetable Sales
---

CONTACT DETAILS
Beta listing full informations is only available on the Listings own website.
Full details in this section will be available shortly


.
The Garden Lady
 Vicki Marshall 'The Garden Lady' is a gardener, plantswoman and nursery owner based on the southern slopes of Godolphin Hill in West Cornwall, between Helston, Penzance and St Ives.
 For more than 15 years she has trialed rose varieties for their suitability of growing in the maritime climate of Cornwall. Vicki has exhibited at many flower shows in the UK and won countless Gold Medal awards for her naturalistic displays of old-fashioned shrub / rambling / species roses and cottage garden plants.
 In addition to roses, the nursery also produces culinary Herbs, Organically grown Vegetables, free range eggs and Veg Boxes to order.
 Along with running the nursery on Godolphin Hill, The Garden Lady is to be found at several Farmers Markets and local produce markets in the area, details of which can be found on the events page
.

 .