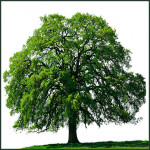 Ornamental Trees and Shrubs
Architectural Plants
Ornamental Trees
Specimen Trees
---
PAGE Q.R. CODE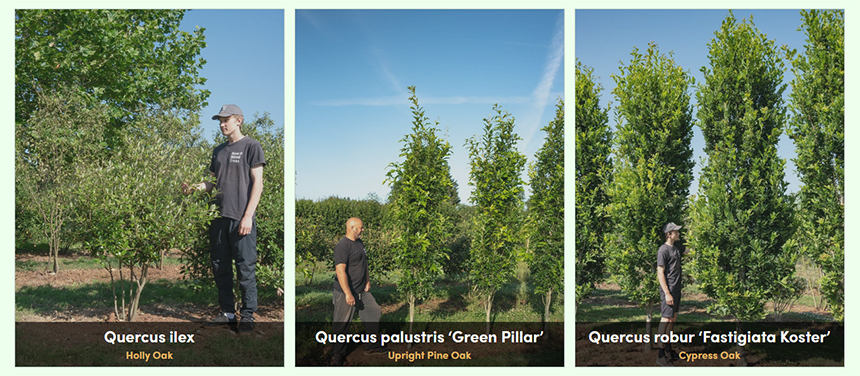 .
 Multi-stem trees are becoming ever more popular for their architectural shape and instant aesthetic appeal, but they are seldom grown in the UK and are usually imported from countries as far away as Italy and Spain.
Philip and Tiffany Nieuwoudt established New Wood Trees in 2008 with the aim of supplying the UK market with field grown, multi-stem trees and have created a leading brand.
 .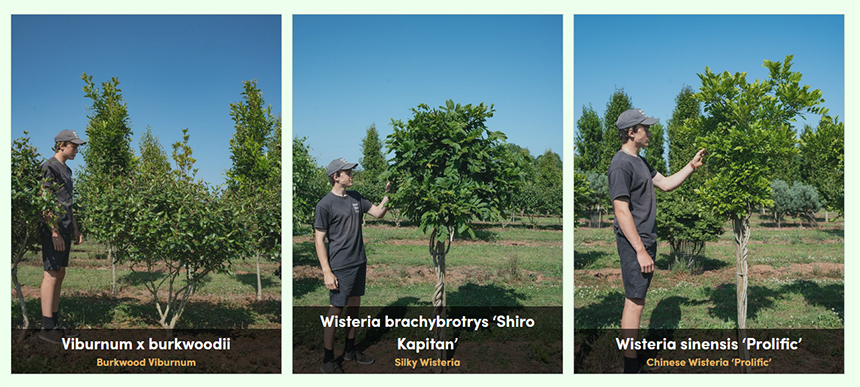 .
From the weeping willow to the majestic oak, everyone loves the impact of a beautiful tree. The only problem is that it takes half a lifetime, if not more, for these trees to acquire their aesthetic charms. As a result, buying a tree from new can often test the patience of even the most committed designer, as it can take years to begin to see the benefits of your investment. You can of course buy older, larger specimens but this is an expensive undertaking and is out of the reach of most budgets.
Multi-stem trees have been cultivated for those who don't want to wait. A typical 2m single stem tree can take ten years to achieve any great impact. Because a multi-stem tree has three, five or seven stems, the growth is more obvious because it broadens the canopy and enhances the overall presence of the tree. It gives it a size worthy of a much older specimen, which means more value for your money.
The art of producing a beautiful multi-stem originates from coppicing and involves cutting a tree right back, and leaving it to regrow multiple stems from its base, or stool. It is based upon from sustainable woodland management, and a true multi stem will have this coppiced look. Coppicing is followed by skillful pruning and shaping throughout the early years of the tree's life. There are a few varieties such as Hornbeams and Field Maples which cannot be cultivated as true multi-stems. In these cases, careful root selection must be carried out to ensure a satisfactory result. A word of warning: be careful when buying multi-stem trees as some growers will simply place three single stem specimens in one pot; this is not a true multi-stem and it does not follow the practice of coppicing.
The architectural shape and instant aesthetic appeal of the multi-stem tree is currently much in demand. Each tree is unique and varies far more than a standard, single stem tree, which is grown to meet different levels of European standardisation and legislation, resulting in uniformity in size, height and girth. This creates uniformity and consistency but does not necessarily allow for creativity and diversity.
Multi-stems on the other hand do not fall under the same kind of legislation; these trees do not have to be out of the same mould and can be grown in a more varied way, and as a result each one is different and unique, which is part of their charm. Multi stems are now the creative end of the market and this is why garden designers are falling for them.
Multi-stems are relatively new to the UK and as they are seldom grown here in Britain they are predominantly imported from Europe, particularly countries as far away as Italy and Spain.
At New Wood Trees we supply field grown multi-stems more or less exclusively and we are the only nursery in the UK to do so. All our trees are field grown and fully acclimatised to the British climate. They spend approximately five years growing in the Devon soil ensuring they are disease free, giving our customers peace of mind in knowing that there is no danger of introducing a foreign and possibly harmful plant disease to our fragile ecosystem.
We highly recommend a personal nursery visit to view the trees; we have over ninety varieties on offer and each tree is different and unique.
 .