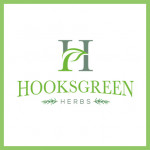 Herbs
Sundries and Services
Herb Plants
Talks and Lectures
---

CONTACT DETAILS
Beta listing full informations is only available on the Listings own website.
Full details in this section will be available shortly


 .
About
 Established now as one of the leading Herb Nurseries, Hooksgreen Herbs was founded in 2005, and is based at Stone, Staffordshire. Run by the Dickson family, we enjoy a reputation of supplying quality culinary, medicinal and scented herbs to the general public.
Founded originally by Malcolm, Hooksgreen Herbs began its life growing bedding and other perennials as well as herbs, and this inspired his son Thomas to attend Pershore College and achieve an HND in horticulture. Together, they decided to specialise in herbs in 2005, when Thomas returned from a stay in South Africa, armed with some valuable experience as a nurseryman, and more importantly, a South African wife!
The nursery is now run jointly by all members of the expanded Dickson family, and at present, we all live on the farm – a real family affair!
The business has gone from strength to strength, and is seen as one of the premier nurseries supplying herbs to the general public, enjoying a good reputation for their service and quality. Selling at all the RHS Horticultural shows as well as the major regional shows and plant fairs, we are a member of the Horticultural Exhibitors Association, and Malcolm has recently joined the executive commitee of the Herb Society.
A great deal of time is spent preparing displays for the shows, and every effort is taken to display the plants at their best – we are always thrilled when we receive a medal for our efforts, and we have collected numerous RHS Gold and Silver Gilt Medals through the years, most notably an RHS Silver Gilt Medal at the 2013 Chelsea Flower Show.
We offer an extensive range of pot grown herbs in 2 sizes: 9cm and 1 litre pots, and also advise on bespoke herb garden designs as well as illustrated talks to groups and societies.
.

.
Shows & Talks
Hooksgreen Herbs attend all the major horticultural shows countrywide, and are also available to present to your group on growing and showing herbs.
Come and see us at a Show or Plant Fair near you – we enjoy hearing about your garden, and any questions you have to ask are very welcome.
Talks
 We are very pleased to offer talks to interested gardening groups or societies. Malcolm has 2 talks with powerpoint slide shows:
Growing and Showing Herbs is an insight into the various aspects of growing and propagating herbs, as well as a window into the world of showing herbs, including some behind the scenes photographs and stories of life on the RHS show circuit!
Herbs Through the Seasons is a talk about growing herbs from winter through the year to the end of Autumn, covering what looks good at what time of year, preparing plants for the onset of winter and how to get the best out of culinary annuals such as Basil and Coriander.
.