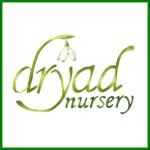 Ornamental Plants
Tubers, Seeds, Bulbs, Corms and Cuttings
Flower Bulbs
Snowdrops
Snowdrops
---
 

DRYAD NURSERY is a small mail-order-only nursery run by Anne Wright, based in Tockwith, North Yorkshire. I grow and breed miniature narcissi, snowdrops, and woodland plants such as hepaticas and trilliums.

The nursery was set up originally simply as a way of disposing of excess bulbs from my hobby, and still has this function, but I also now propagate the plants especially for the list. Everything is on a small scale though – it has to fit into my back-garden!

I hope to put out 3 lists annually- hepaticas in February/March; daffodils, dormant snowdrops and other bulbs such as crocus in July; and mostly anemones, orchids and hepaticas in November. I will send an email a few days before the list goes out to alert customers that it is imminent. Postal lists will be sent out to hopefully arrive at the same time as the email lists.

The numbers of each item available at any one time is always going to be small. If you like something in the list – you need to order quickly, by email or phone if possible, to ensure the best chance of getting your choices.

ALL OF THE plants in the list are home-propagated by myself or Brian Duncan. None are bought in from commercial growers.

Please contact me if you would like to be sent one of these lists, by email, or post.

Between lists, I hope you will enjoy the gallery, but please note – some things in the gallery will never be offered because I don't have them any more, and most of my own seedlings may take several years before I have enough to offer (if they survive that long!).

I'm also unable to take 'wants' lists for bulbs, as it is becoming unworkable for me to keep records of these, and it would be unfair to let all the best varieties be reserved, thereby excluding other customers entirely. I will keep informal notes of regular customers who have missed out on specials in the past.