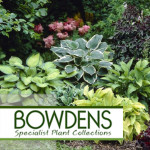 Agapantus
Ferns
Herbaceous Perennials
Perennials
Various Ornamental Plants
Woodland Perennials
---

CONTACT DETAILS
Beta listing full informations is only available on the Listings own website.
Full details in this section will be available shortly

Welcome to Bowdens
In 2004 Tim and Ruth Penrose purchased a small, hosta hobby business from Ruth's parents, Ann and Roger Bowden.
With a vision to expand focussing on specialist plants and quality service, over the following years they purchased Rickards Hardy Ferns, PW Plants, three other related businesses and most recently Pine Cottage Plants; all national or world leaders in their chosen field.
The Bowdens group now consists of four main brands, representing a total of 125 RHS Gold Medals and hundreds of years of expertise and experience.
.