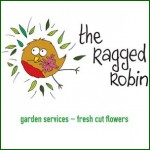 Pear Tree Cottage Butt Lane Goulceby Louth
Jill Mowbray Mobile: 07964 384626
Miranda Manning Press Mobile: 07973 123756
.
British Cut Flowers
English Cut Flowers
---
We are…

We are two passionate gardeners who love to create spaces to stimulate all the senses! We're hard working, outdoor loving and hopefully quite 'green fingered' by now. We relish projects of all sizes, rise to challenges and generally count ourselves lucky that we are able to do what we most enjoy as a 'day job' in a beautiful environment!
How did we get here?

It has been our wish to put skills gained from a wealth of different work situations, travel, adventure and general life experience to something that we feel benefits local people and the environment that we live in. The name came from trying to combine our love of gardening with forgotten British flowers whilst adding an element of fun. We hope you like our 'Ragged Robin' as much as we do!!
What do we do?

The main strands of our business are Gardening Services, Home Grown Cut Flowers, a Plant Nursery and Tea Room.

Gardening Services

We are two very hard working (not quite so young!) ladies, who pride ourselves on attention to detail and the satisfaction of a job well done.

With over 20 years of experience of both flower and vegetable gardening, with a bundle of creativity and imagination we love to come up with solutions for any kind of outside space…equally we're happy to transform your ideas into reality.

Whether to maintain, develop or restore your outside space, however big or small the challenge; if you hate to see your garden fall into disrepair because you can no longer manage the hard labour, or simply don't have the time, The Ragged Robin can be of assistance.

We design, weed, prune, clear, trim, shear, hoe, dig, cut and mow…and much more!

All with thoughtfulness and a smile.

Plant Nursery & Tea Room

With our garden services and cut flowers, it seemed a natural progression to offer plants for sale, currently our stock is small but varied and is growing all the time (pardon the pun!) Why not come and browse the selection of plants on offer including medicinal herbs (recipes provided), fruit and vegetable plants, hardy perennials, shrubs and annuals.