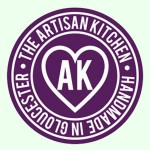 85 Barnwood Road, Gloucester.
07779 998129
★ ★ ★ Great Taste Awards
Condiments, Dressings, Sauces etc
Confectionery
Chutnies
Conserves (Savoury)
Jams
---
SMALL IS BEAUTIFUL.THE ARTISAN KITCHEN PRESERVES ARE HANDMADE & HOMEMADE-LITERALLY – IN SMALL BATCHES IN A BIG COPPER POT BUBBLING AWAY AT THE HEART OF A SMALL GLOUCESTER KITCHEN.

WE AT THE ARTISAN KITCHEN ARE PASSIONATE ABOUT PICKLES; WE CHEER ABOUT CHUTNEYS, ARE MAD ABOUT MARMALADE AND GO SILLY OVER SPREADS. JAMS ARE STICKY AND SWEET, THE PERFECT TREAT. AND WHEN LIFE HANDS US LEMONS; WELL, WE MAKE  LUXURIOUS LEMON CURD!

WE ONLY USE THE VERY BEST NATURAL INGREDIENTS OF THE HIGHEST QUALITY. WE DON'T JUST BELIEVE A PREMIUM HAND-PICKED CROP MAKES THE BEST PRODUCE – WE KNOW IT. WE KNOW IT BECAUSE OUR JAMS AND CHUTNEYS LOOK INCREDIBLE, SMELL DIVINE AND TASTE SUBLIME. DON'T JUST TAKE OUT WORD FOR IT – ASK OUR SUPPLIERS AND LISTEN TO WHAT OUR CUSTOMERS HAVE TO SAY.

FOLLOW US ON TWITTER, LIKE US ON FACEBOOK, FIND US IN SOME OF THE COUNTRY'S FINEST DELIS AND FARM SHOPS OR ORDER ONLINE. GO TO OUR ONLINE SHOP TO BEGIN YOUR ARTISAN EDUCATION.