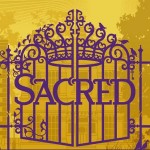 5 Talbot Rd., Highgate
.0208 340 0992
.
Gin
Rosehip Cut
Vermouth
Vodka
---
Who makes Sacred? How is it made, and why?
And what gives it its name?

We'll come on to all these things. The best place to start is Highgate itself. Stroll through this area of North London, and its beauty and history are immediately obvious. What's less obvious is that in our house, not far from the summit of Highgate Hill, there exists a craft distillery.

It's Ian's brainchild. After he'd bid the financial world a not-so-fond farewell, he dusted down his knowledge from his Cambridge Natural Sciences degree and ploughed his energies into experimenting with reduced pressure distillation.

In the early days, Ian's focus was on re-engineering the vintage wine he'd been collecting since the tender age of 18. But one fateful day, when he'd taken delivery of some neutral spirit and botanicals, he found himself working towards a formula for gin.

Sacred Gin is unique. Each of its twelve organically sourced botanicals are macerated with the highest quality English grain spirit and then distilled separately in glassware under vacuum. This process is responsible for the distinctively lush, fresh character of Sacred Gin.

This means the botanicals, including fresh cut citrus, juniper, cardamom, nutmeg and a type of frankincense called Boswellia sacra.