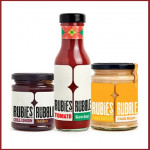 Condiments, Dressings, Sauces etc
---

CONTACT DETAILS
Beta listing full informations is only available on the Listings own website.
Full details in this section will be available shortly

.
What We Do
We make award-winning condiments that are packed with flavour and packed with purpose.
Our range of ketchups & relishes are made with fresh fruit & vegetables sourced directly from farms, whilst our mayo is made with aquafaba, a plant-based alternative to eggs that is usually thrown away. Condiments are a fantastic way of preserving produce by extending their shelf-life with vinegars and sugars.
In other words, less waste, more taste.
 We source onions, vine tomatoes, apples and pears that are grown in the UK.
Our aquafaba (a by-product of hummus production) comes from Wales