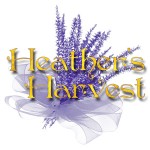 01743 245414
Pleas visit my website to order or find stockists
.
Condiments, Dressings, Sauces etc
Confectionery
Chilli Products
Chutnies
Conserves (Sweet)
Jams
Pickles
Relish
Sauces
---
 Heather's Harvest

 

Heathers Harvest is an independent business that offers top quality

products and service at affordable prices.  Our products are made using a higher percentage of fruit and vegetables than other companies in the market. A higher percentage of fruit or vegetable is not all that makes Heather's Harvest products exclusive, they are full to the brim, after all we promise value for money!

 

Why take my word for it, the Heart of England Fine Foods Diamond Awards selected our Spiced Carrot Chutney in 2009 not only as the winner of the Condiments/Preserves Category, but also as the outright winner against 9 other categories to receive the coveted Diamond Taste Award. It has subsequently been awarded the National Great Taste Award at 2 Gold Star level in 2010 and 2011. The Fiery Chilli Tomato was also given this recognition in the 2011 awards.

 

A touch of homespun foodie heaven from Heather's Harvest

 
JUST A FEW OF OUR WONDERFUL HOMEMADE OFFERINGS

Please visit my website for further details and how and where you can buy

A few comments taken from Heathers web site

39. Norbert Sutschet · 14.06.2013 8:38

Hello Heather,
I had a chance to meet you and your fantastic products on the market in Shrewsbury. Me and my group of german friends visiting from germany fell in love with your chutneys instantly and had to buy in total 20 different kind to bring back home. Thank for making such perfect stuff and presenting them with such passion for the things you do. To bad you do not ship to Germany !

 
37. Keir Lindsay · 16.04.2013 16:05

Dear dearest Heather,
The day your chutney met my tongue was quite frankly an explosion of the senses, the perfect amalgamation of tang and fruit sent my taste buds into a whirling state of ecstasy. You have a way with the chutney and the chutney has a way with you. Amongst all the uncertainties in this world, I can safely say you make a CRACKING sandwich.

 

 

 

31. Dawn · 19.08.2012 13:59  

 
Have tried a few of your chutney's now from the local Deli in Ironbridge, have to say the Carrot Chutney is my favourite – but they are all fantastic. By far the best I have ever eaten and I come from a line of home-made chutney makers.