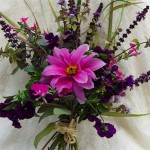 ---

About us

In 2009, Sushma and Dominic, founders of Lettuce Flowers, celebrated their own wedding. Sushma wanted to use wild flowers and Dominic – a professional gardener – put her in touch with some licensed British wildflower suppliers.

Those plants, combined with Sushma's imagination and creativity with natural fabrics, became their wedding displays. Her 22 years of experience in the clothing industry, 12 of which were in sustainable clothing, makes the concept unique as she adds textures and colours to bring the arrangements alive.

Sushma and Dominic's guests admired the edible flowers on all the food platters and especially loved being able to take home the displays to plant in their gardens. Knowing that others would also appreciate the concept, the pair were encouraged to pursue their dream. After a year of searching to find the right suppliers and growers, Lettuce Flowers was born.

Using seasonal plants grown in the UK cuts out the airmiles of traditional cut flowers flown in from far places. Because they look, smell and taste great, Lettuce Flowers provides a memorable multi-sensory experience for you and your guests.

Sushma and Dominic hope that giving guests (hand-picked/carefully chosen) potted plants will encourage them to find out more about seasonal edible flowers, herbs and salads.

Taste good
All of our delicious herbs, edible flowers and salad displays come with a Lettuce Flowers recipe to help you on your way to an exciting new range of flavors. If you have not tried Geranium Butter, then you are in for a very pleasant surprise! A feast for the eyes and taste buds!

Feel good
If you are planning an event or a wedding and want unique, beautiful floral displays that your guests will remember, we at Lettuce Flowers can make your event a real talking point. Our range of displays can be designed to match your colour scheme and focus on your menu. Edible flowers and herbs will perfectly complement the efforts of your chef to create an unforgettable sensory experience. You do not need to buy green flowers to be ethical!

All the plants we use are seasonally grown here in the UK (over 85% are sourced from local nurseries), meaning that not only will your event be beautiful and your memories long, but you will also be inspired to cook with exciting herbs and do something wonderful for our planet. Our displays say that you care about sustainability and symbolise perpetual growth as they make perfect keepsakes. 

Wedding Flowers

Imagine a beautiful bridal bouquet of seasonal edible flowers and herbs that have been grown right here in the UK. A bouquet that smells heavenly (and tastes pretty good too – although you might not want a nibble on the way down the aisle). Imagine walking into your wedding venue and being greeted by the beautiful sight of flower and herb displays, the air fragrant with their natural perfume. Imagine your guests taking the flower arrangements back home. The flowers and herbs growing in their garden or windowsill will allow them to cherish memories of your wedding, long after the special day. That's what choosing Lettuce Flowers as your wedding florist can mean. As modern brides become increasingly conscious about the source of their wedding flowers, many want their floral displays to reflect their care for the environment. Some many want displays that truly reflect the people they are instead of an arbitrary choice from a florist's catalogue. We design your wedding flowers according to the season and will help compliment your colour scheme. We can also work with your chef to make your table decorations reflect your menu. Seasonality attributes a naturalistic style to your selection, rendering your displays utterly unique. Your choice may include posies from fresh flowers and herbs, buttonholes, wrist corsages, hair decorations, church flowers and, of course, your table centerpieces.